Well been in the creative mood for now the pass 2 days and went ahead and made my 2 year old daughter a tube top. Did my own pattern mainly using a couple of different kind of stitches like double, single, slip, and back stitch. Just was being creative and it came out just nice love it. Whip stitch some round cord elastic around the top of the tube top to give it that stetching feeling then I did a single stitch so I could hide the elastic. Here is some pics of my little girl.
Front of tube top.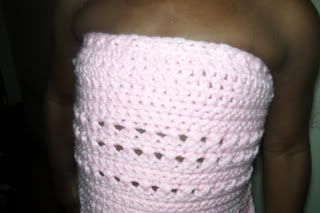 Close up on the front of tube top stitches.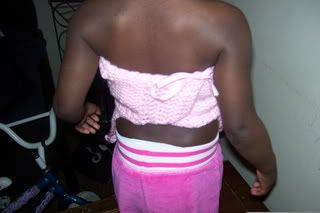 Back of tube top. I put a nice little ribbon on it to give it more of a girlie look plus my little girl loves ribbons.
Close up on the back of the tube top stitches.
My own pattern didn't follow a pattern mainly just free form it.
Now have to get started on my 4 year old tube top she wants one also have something in mind for my 4 year old daughter something much different then this tube top so now have to go get more creatived lol. :)