First I want to start off by saying thanks to all that have been visiting my blog from time to time. If it wasn't for all your comments and encouragments I think I would have gave up a long time ago on my hobbies and this blog. I have made some good blogging friends and some friends that don't even blog but, comes to my blog and check out my stuff.:)
Thanks guys.:)
First want to say thanks to all that entry my blog contest didn't know that I was going to get so many responds over the weekend WOW. Thanks for the bday wishes also. I enjoyed my bday as well.
Ok the winner for my blog contest is
Nancy
I know Nancy from one of my yahoo crochet groups.
WTG Nancy.
If you all don't know what the gift is let me repeat it.
Nancy will get a love purse made by me from this old dress that I found at a thift store.
I will totally show off the purse as soon as I am done making it. I haven't yet to get started on it just got back home on Monday. So expect a picture of the purse later on in the week.
Ok finally home, my bday weekend was great had fun with my sweatheart. He planned a lovely Friday night with just the two of us at a nice hotel for the night. It was nice loved ever minute of it.
Spoiled Rotten lol, for those that know me I love to read from time to time. So I am not picky when people is buying me books love books. Well got so many books from my sweatheart and friends.
See
Also got fabrics. That I can't wait to stick some scissors into all of them and get sewing.
See
Also got other stuff that I didn't snap pictures of. I got a MAXIglide flat iron that I kept seeing on tv to get my hair long without working of a sweat in the bathroom for hours. I have very thick hair and trying to wear my hair down is hard sometimes due to my hair being so thick. I tried out the MAXIglide on Nesa and Nellie hair and love it so far.
Oh I got my hair braided the day before I left. Got me some sewing notions, like buttons, thread, more scissors, measuring tape, iron decor, magnet snaps and more.
Got some dishes, cups, pots, yarns, female personals. That's all I got so I have to say I was spoiled rotten this weekend.
Got to look at a few homes in Green Bay, WI love most of the homes but, looking to have stores like food stores, parks, or gas stations in walking distances. Don't want to have to drive all the time. Plus walking during the summer can totally help me lose weight and also get my kids actived they can walk on with me. So looking for those things in the areas. Plus some of the homes we looked at wasn't in our price range some was just right on the outside, everything in walking distance but, was to small on the inside. So we is still looking. Not in a rush. I go back to Green Bay on January 30th to look some more.
Ok enough about that. On to my crocheting. I haven't been doing a very long. I know I know naughty Lesa. But, I have been working on and off on my afghan it's coming along nicely for me to have just started this it amazes me how much I got done in a short amount of time.
See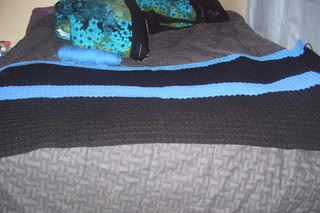 Also what inspired me to even do this afghan was some fabric that I had that was supposed to have been used to make a skirt but, I never got to doing the skirt because it started to get cold outside but, I loved this fabric so much that I decided to make pillows out of them.
See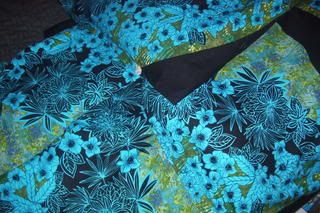 I took the colors from the fabric to use into my afghan so that it can somewhat connet with colors with both.
I still have more colors to add to my afghan so that the colors can match a little.
These pillows was quick and easy to do. Like how that turned out.
Ok now that's about it for now. I have some house cleanning and a little packing to do for the next couple of days.
Thanks everyone for stopping by. Everyone have a great week and take care.:)