Hey blogger friends I am still around crocheting my butt off. I think I went purse crazy since we have that swap on
Swap Swap Gals
the theme is "Purses" I have been doing a lot of purses here and there. As most of you all can see purses isn't my weakeness lol. Laura is the one I am sending my swap gifts to. Since
Laura
checks out my blog sorry can't put pictures of the things I am sending her so so sorry but, believe me I am going to take pictures and I know she is going to be showing all of the things I send her off on her blog. Buy, until then I can still crochet for others.
I remember I was talking about a couple of months about me selling some of my things in a boutique. Well decided to go ahead and start off small I put some of my wallets and coin purses in the boutique the lady that runs the boutique by the way is called
WIGGIN OUT BOUTIQUE
here in Milwaukee. She is a daughter of my moms friend. She's a nice lady that I found that has been checking out my blog and checking out a lot of my work she is also a crafty lady that does jewelry of her own. But, she was telling me about somethings that I could crochet up and put in her boutique like my purses, those carry along bags I made for Nesa and Nellie and also sew some purses and those newscaps. So off I am to get some of the things ready to put in her boutique. I do get money for every sell in her store not the full price have to get her something for each sell. I just set the sells price and off it goes. YAY me lol. So wish me luck on that as time goes by.
Want to show off my Secret Swap Pal sent me and my girls. For those that don't know the Secret Swap Pal is from
Crochetville
.
As you can see the picture I got a lot of things that I know I am going to put to use. My Secret Swap Pal is
Mom4x
from the Ville. So
Misty/Mom4x
if you is reading this thanks a bunch again I love everything you sent.:)
On with other things like ummmm let's say crocheting. Well I made a friend of mines mom a coin purse and a make up purse for her bday today. She loves red and black so I did red and black. Of course my friend had to pay me for my time lol. So check it out.
Close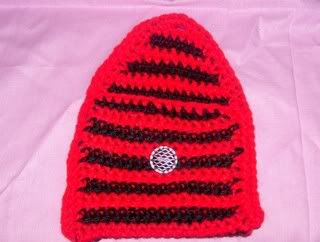 Open
This is the coin purse.
Has a medium button for closure.
Close
Open
This is the make up purse or it can be used as a coin purse also.
Has a zipper on for closure.
Now another finish project of mines.
This is for me.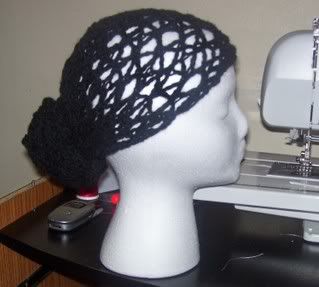 My hair rap
I totally needed another one. One that is made with thinner yarn since it will be getting hot soon. I still wanted to wear my hair raps every now and then but, wanted it to be more like a lacy like hair rap but, also light weighted.
Other up and coming projects.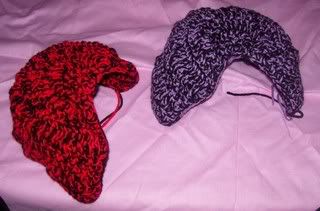 These are two different purses they wont be put together. But, as you can see the red and black is a half circle purse and the purple and black is also a half circle purse I have to just finish the other piece to both and to cut of the fabric lining to both and off it goes.
I wanted to use some of my fun fur so I started this purse.
Done in double strands and has Lion Brand fun fur. Pretty huh? Just haven't finished it. I put it to the side for now.
Now I have some things on my mind for some things I like to do for my swap partner. Oh and things I like to put in the boutique. :)
Thanks for stopping by I hope everyone have a happy weekend. :)Take care.