What to show off what I won on
Laura's
blog. She had a blog contest and yep I won. So what to show off my gift. Thanks. Laura I was glad to play. Now hoping to do my own blog contest soon. Want to finish up the number one gift before starting the contest.
This is what I won aint it so cute.
I gave it to my daughter Nesa since she haven't been feeling so good from being in the hospital and all plus I got tired of fighting her for it lol. :)
Also
Laura
sent my girls some hair clips and stickers. Thanks
Laura
:)My girls love them.
Nice huh.:)
Ok now on with the show. My
Swap Swap Gals
I want to thank you all for sticking with me in the swap blog and doing everything you all can to keep our swaps going. So far so good this will be our 4th month and we is on a roll this month. There will be 7 of us signed up for our "Purse" swap. Also we have a new member
Bennance
welcome to our
Swap Swap Gals.:)
Pretty soon I will be getting started on my swap gifts. So wont be able to show pictures of those until my swap partner gets her gifts so I will try to update with other projects I am working on.
Ok now on with my latest projects. I have been doing a couple of more small projects. I did some more coin purses but, they are envelope coin purses. My mom loved the Lion Suede that I done so I made her a blue one. Here it goes here.
Close
Open
Did another mohair but, envelope coin purse.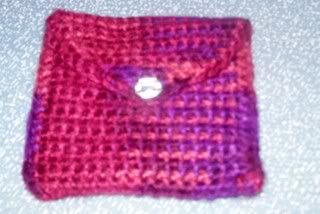 Close
Open
Another envelope coin purse done in TLC
Close
Open
All done with a H hook.
I noticed scraps come in handy for something like these. When you have a little extra yarn left and you know it isn't enough for a big project these coin purses comes in handy.
Also wanted to try to do something new. A wallet. So I gave it a try for the first time.
But, for those that was asking how I put my magnet snaps on to my purses this is how
I make some small square like these below. Mainly crochet up a couple of small rows.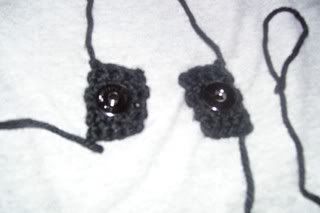 With a little extra yarn at the end. I use that extra yarn at the end of the squares so that I can weave it into the crochet stitches on the wallet or purse.
Now here go the wallet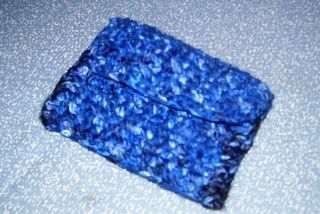 Close
Open now you can see the magnet snaps
Now opened all the way. There is 2 small inside pockets.
Cute huh?
Now after making my first wallet I wanted to make another one but, this one is mines.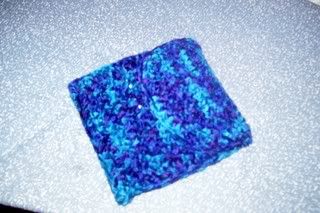 Close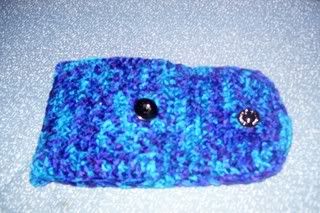 Open you can see the magnet snaps.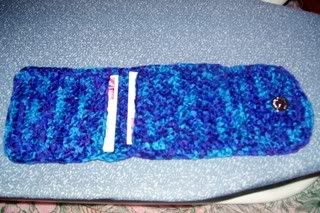 Opened all the way. Have 2 inside pockets on this one also.
I loved doing these wallets they worked up quickly and done in all one piece.
Now I want to give this wallet a try but, bigger size a checkbook size wallet with more pockets. I know I know will be a little hard but, I can work with it I hope. Practice makes perfect. :)
Also wanted to show off my cards. Everywhere I go people asking me for my number so they can call me to get things sewn or crochet so I got tried of pulling out scraps of paper or trying to find a pen to write down my number so I got me my own cards.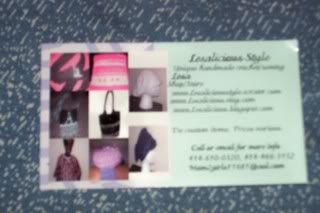 Cute huh?
Thanks everyone for the prayers and great comments on my daughter health she is hanging in there. She has to go to the hospital twice a week now for shots I know she is going to hate the hell out of that. But, she have to go. That surgery she had was a Endoscopy surgery she will have to have that once a month for the next 6 months. Grrrrr I know she will hate that to the fullest. But, we is hanging in there it is stressful but, hoping to not worry to much and think postive.
Thanks for visiting blogger friends. Everyone take care and have a great weekend.:)