Want to say thanks to
Cara
. I had did another blogging contest and again I won. This time I won a medium cutch that I so love thanks. Also Cara sent me a magazine Sewing World.
Also want to thanks my FGM from
Crochetville
for the love ROAK package love the ribbons and the iron glitter letters thanks a bunch.
Also thank another FGM from
Crochetville
for the lovely magazine I totally get inspired by pictures thanks.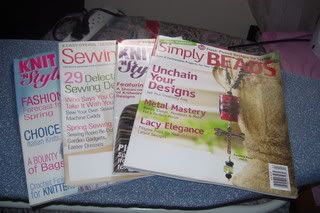 This I totally needed. One of my best friends she love my crochet work and she supports me in my work she got me the Provo Craft crochet hook set. She knowns what I have been going though with my wrist and all and she remember me talking about those crochet hooks to my mom. So she got it for me.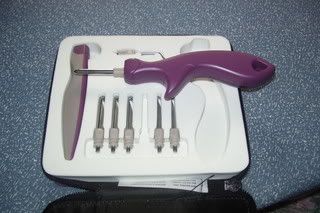 Aint it so cute. I does helps a bit with my wrist love the handles there are two handles I can change up at anytime.
I have to show off what I can do with my new hook.
Here working on another hair rap.
This was one of my days at Walmart. I go crazy in the crafting, sewing, yarn area but, this time I was more focus on trims, zippers and buttons. My mom said I have been going button crazy lately have to big buckets of buttons. I love those glitter buttons they go so well with purses for closures.
I now want to start getting started on crocheting some tank tops for my girls and sewing some summer clothes.
First trying to finish up the purses for the
Swap Swap Gals
swap I am doing. So sorry couldn't show you all to much since that is a lot of what I have been doing is for my swap.
Everyone take care and have a great weekend.:)