Well not really GREEN as in the color green. Green as in recycle.
Well I am back and ready to show and tell. Show a bit of my recycle/reuse projects.
First want to start with my sewing. I know I know been sewing a lot lately I also noticed that myself but, I also got in a bit of crocheting will get to that a little later on in this post but, first want to start with this latest recycle project.
Well my mom liked my bucket purse so much that she brought over a pair of old gaucho pants that she out grew due to her losing a bit of weight and these gauchos just was laying around doing nothing and she felt they needed to become a new purse for her.
So here is the gaucho pants before I worked my miracle at hand lol.
I try to use every piece of a pair of pants, skirt or whatever to my advantage.
See here I cut out the pockets and the waist band. Will totally use them both.
This is the pockets I cut off. Also decided to use that flower fabric for the lining has a pretty tan and brown to it so thats why I picked these two threads for the purse.
This pictures is after I put together the top and the side pieces that's the back and front of the purse also the pocket right dead in the middle. This is before sewing th other end of the purse together.
Here is the lining with the 2 pockets for the inside.
After I did everything I needed to do that includes sewing the bottom part of the bag also sewing the fabric pieces together just like I did the outter pieces. I then line up the lining and the denim and put in a metal snap for closure.
Here is the purse after I am done. Those two pockets is on both sides of the purse. I also use the waist band to make the strap of the purse.
Here go the lining of the purse. I made 2 pockets in the inside on both sides of the purse.
Also what is a purse without the change purse to go with it.
Outside
Inside
Now on to another recycle/reuse project.
Take this here skirt that I brought from the thrift store.
And now look at what it become after I get cutting and dicing at it lol.
Front
Back
Close up on pockets and legs of pants
Done in denim blue. Used pink thread to give it a nice look to it due that I wanted it to go with her Mickey Mouse shirt.
That I finally finished here.
Front
Back
I used the pattern from Simplicity 3771 for the shirt and the pants. Well the pants wasn't pants on the pattern they was capris but, since it's starting to get cooler here in Milwaukee, I thought that I would make them longer to suit our weather.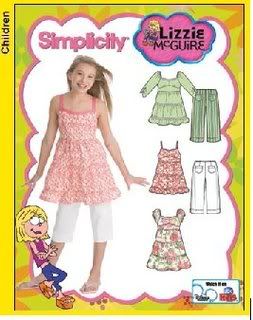 Also the shirt I did a little alterations just a bit to suit what I want. You can read more of that at
Patternreview.com,
my review
. I am also entry this shirt for a
Kids Contest
over at
Patternreview.com.
Also so wish me luck. I am thinking about trying to entry another project before the contest ends. I will try.:)
Now let's step away from sewing for a bit and step back into my crocheting world.
I have been crocheting but, not as much as I always done. But, I decided to start on a couple of Christmas projects since they may take long.
Here I decided to start on a hexgon afghan for my mom for Christmas. I am doing it in cherry, and frosted orange. These is the colors my mom picked I love these colors. Also this yarn I never worked with before. It's called Frosted Look by Malina. Never heard of this yarn but, totally like it. So far I have about 55 hexgon in both colors each done so that gives me 110 done so far. My plan is to try to do at least 350 to 400 depending on how much yarn I have as I keep going. I really want to try to finish by Thanksgiving so I will see.
Also this is another crochet project this is for me. Doing myself a hexgon afghan also. I seen how fast these hexgons was working up for my moms afghan I decided to try to do me a afghan also. Now my deadline for this is also Christmas. I am using Red Heart yarn, black and shocking pink.
See aint they cute.:)
Now that's all blogging friends. Oh not totally all. Next week Wednesday I will have my Crochet Sudoku blog contest up and running. I have decided what the gifts will be for the winner wont say a word about what they gifts are remember I said, GIFTS lol the the letter S at the end lol. So will give that contest up to a week. I am still debating should I have 1 winner and 1 person that comes in second place to get a gift also. I will figure that out soon.:)
Everyone take care. Have a great week.:)