Hey blog world. Well it's now Saturday I haven't been that busy this pass week like I was the following week.
Not much sewing this pass week. I said, I wanted to take just a little bit of a brake to get a flew crocheting done.
So I whipped up a small tote bag from the yarn I got from Annies Attic. All done in half single stitches. Didn't have much yarn so I tried my best with the yarn I had.
Tote
Inside
Just a simply tote done in a couple of hours. Working on it every now and then.
Also
Another purse I made. This purse had my wrist hurting a bit. Because I had to double strand the bottom up to the middle and that is a lot on my wrist there. My wrist still yelling out in pain lol.
The whole pures
Close up
Straps
Inside
Metal snaps
Whatcha think? Cute aint it.
Yarn: Red Heart black, light grey and light blue
Stitches: Single
Started: October 23, finished October 24, worked on it on and off
Started on another purse. I am winging this as I go. Hoping it turns out ok.
So far so good.
Also for those that known that I sew. I post most of my finished projects on this website called,
PatternReview.com
.
Here is the board.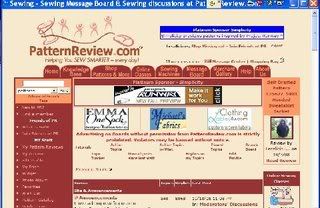 They have feature finished projects that pops up on the side of the website board.
Was happy to see mines on there the other day.
Cool huh?
Also want to introduce a board I started called
Women that Crochets
Thanks to
Ashley,
Ciaran,
Angela,
Susan,
Andrea
for joining the team. Hope to see you all there.:) Make yourself at home.
Here go the board.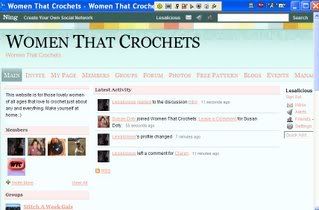 I started this for us women that loves to crocheting hoping to keep this going. I invited my blogging buddies so hoping you all join. If I forgot any of you just click
HERE
and join in. I want this to be a small communite of women where we can have fun showing off our crochet, have contests, swaps and so on. So for those that is on my Swap Swap Gals blog. I am totally sorry. I totally forgot about our swap blog. So I want to keep it going but, with this board. I believe this board is bigger and easy to get around. So the more people join the more I am able to start having more things on there. Looking for volunteers to mange a couple of contests and swaps. I think if others are able to mange then it will help keeping the board running well and so that all of it wont be just on me to run the board.
Upcoming things I want to put on the board.
Crocheting Contests
Holiday Swapping
I have Stitch A Week already listed on there as a group. For my memebers have any other groups you would like to mange just let me know.
You can post pictures of your crochet work. Links to your updated blog. Post free patterns that you written that you like to share or get tested. There are a couple of groups that will be listed. You can start discussions in the forum and so on.
Hope to see you all there.:)
That's all for this week. No sewing update. Haven't sewn since last week Saturday. Have to get back on that soon.
WIP sewing
My jacket
A couple of bed pillows
A shirt for me
WIP crocheting
Purse
Work on my mom Christman throw blanket
Something I am doing for my girls (A surprise)
Everyone take care have a great weekend.:)