Just another Friday have a bit to report not much. My wrist has been killing me badly doctor says I have carpal tunnel due to me crocheting and typing way to much. She said, I need to slow down a bit. I am like easy said, then done. What she don't get is that my crocheting is stress relief for me. I left the doctor office and went to buy me a wrist wrap to wrap around my wrist for when I am crocheting and typing. She said, that will help my wrist not to bend to much while crocheting and typing. So I took her advice. I also noticed my wrist hurts more after crocheting something that takes double strand. I noticed that when it's single strand my wrist don't hurt as much. "Damn carpal tunnel" Grrrrrrrrrrrrrrrrrrrrrrrrrrrrrrrrrrr
But, I am taking her advice. I just have to remember to put it on before crocheting or typing.
Other words on with the show. I see a lot of bloggers have a couple of blogging contests going on I want to do one myself but, waiting until a couple of other bloggers I know contests to end then I want to give my idea for a contest a try so look for that soon. Hints mines going to be for crocheters only sorry to my sewer bloggers out there. I will give everyone 1 week that's 7 days to finish up for the contest. Also the winner will get the grand prize but, there will also be a prize for the second and third place. Of course everyone get's to vote to figure out the winners. All prizes will be made by you know ME. That's it that's it that's enough hints lol. So sometime next week I will list my first blog contest.
Also still debating if my sister and I going to do our contest she and I been so busy we haven't yet to get on the same page. I told her I think she just scared that's all lol.
About my black jacket I was doing. I decided to put that down for this weekend and try to get back to it next week or so. I got tried of fighting with it lol.
Since spring is here I wanted to start on sewing a couple of spring and summer outfits for my girls so have to go fabric shopping. I have a lot of ideas in my head for some outfits for my girls. Plus you know me I do recyle/recon work so some of there jeans and shirts they have now they will still wear in the summer but, it will be all redone over.
Now on with some updated projects I worked on for the pass 2 days. I am still in my crocheting purses rut if that's what you want to call it. Haven't thought of much other things to crochet and the things I do think of is all something wearable that I know will take much time so trying to stick with some simple projects.
I did this pretty purse.
Front
Close up
Inside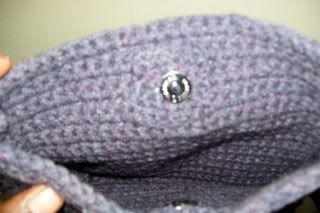 Lookie Lookie snap
Done in double strand with a H hook, yarn is TLC Heathers called French Laverder
Ok had to do another purse somewhat like the first purse but, different in yarns and different on design.
Front
Close up
Inside
Done in single strand with a J hook, yarn is Lion Suede called Ebony
There you have it my latest crochet projects.
Now on with a quick sewing project.
I needed a new dinning area curtain so I whipped this up real quick. Found the fabric at Walmart for a dollar a yard so I got 2 yards.
Love this fabric it isn't to to white it's a cream frosty type color. Since my dinning room is a cream and red color this fabric came in handle. Didn't have much as you can see on the picture it was long enough but, not as wide as I thought it would be. I was thinking about crocheting up some tassles or something for the side of the curtain.
I tried out one of my stitches from my Brother's sewing machine on the curtain so it wont look so plain. I totally love my new sewing machine at times can't make up my mind what stitch to use. I am not done with stitch pattern have a lot more to do but, wanted to give you all a tester first on how the stitch pattern will look.
Here go the curtain
Here go the close up on the stitch pattern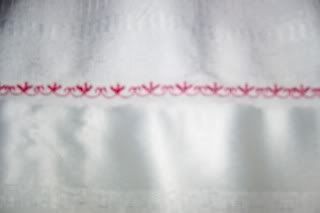 This stitch pattern will be thoughout the whole curtain ever 3 to 4 inches this stitch pattern will repeat.
Ok there go my updated sewing project.
My upcoming weekend projects are.
Crocheting will be to crochet with thread a head wrap and work with beads to see how that turns out on the head wrap.
Of course another purse but, for my Secret Pen Pal on the Ville.
And to do Nellie a crochet ribbon tank top.
Sewing will be to sew 2 crochet hook cases.
My upcoming week projects are to finish all my weekend projects of course.
Crocheting will be to start crocheting my bathroom rugs.
Sewing will be to start cutting out fabric for Nesa and Nellie a couple of spring and summer outfits.
Also to cut out fabric and start sewing for me some pj's.
Also to come up with a gift for the winner for my upcoming blog contest and for the second and third place a gift also.
Oh and fight my jacket some more.
Ok that's it.
Everyone have a great Friday and a wonderful weekend. BIG HUGS.