I am still here and kicking. Just wanted to update real quick.
Oh to my
Swap Swap Gals
our April theme will be up and running tomorrow the theme is "Purses" for April. So ladies go ahead and sign up so we can get our April started.
Also there is still lots of room for more people that would like to join in on our
Swap Swap Gals
blog. Just go to
Swap Swap Gals
and read the rules and follow the directions and go from there.
Now on with the show.
Daughter Nesa is doing ok so that is a great thing. She still complaining about her stomach hurting so giving her pain meds that her doctor order for her for the pain. She have that endoscopy tomorrow so hoping all goes well with that.
I did go up to Nesa school today to talk to them about what happen before spring brake they didn't like that the little girl kicked Nesa they really hated that the teacher knew and didn't say anything to anyone when she knowns Nesa problem. So the school is handling that to see what they will do. I know that the girl didn't know better but, well she knew not to be kicking feet stay on the ground she is old enough to know that. But, like I said, waiting to see what is next. The was talking about me going to Nesa class to talk to Nesa's class mates and explain to them about what is going on with Nesa. Which I did do when Nesa was in K4 because her K4 teacher understood and thought that was a great idea for me to talk to the kids. So whenever Nesa did miss school due to her being in the hospital all the kids hugged her and asked her how she feeling when she did return to school. I tried to do that this year talk to her K5 teacher to see if I could talk to the kids about it she kept saying she will keep a eye on Nesa and that she will explain to the kids about Nesa but, look what happen anyway. See if I just explain it to the kids I think it wouldn't never got this far to the point now she has kidney problems. Grrrrrrr :(
But, I am making myself anger and mad so let me more on to another topic will keep everyone updated on how Nesa is doing.
I have been crocheting a bit now mainly some small little projects some small change purses. They work up very quick got to do 4 so far in less then 1 hour. I wanted to get back into my crocheting and I thought by starting off with some small projects it will help. I have to say I totally miss my crocheting now I have plans to do more things. Since the April swap for
Swap Swap Gals
is now starting I have some things I like to do for that as well. Also I want to send off my package to my Secret Swap Pal that is on the Ville didn't get to do much crocheting but, I got to go shopping and get a lot of things for her.
Want to show off my small change purses.
Aint they cute.
This is done by Bernat Caress in Mohair
Close
Open
There is velcro to help keep it close
This one is also done in Bernat Caress in Mohair also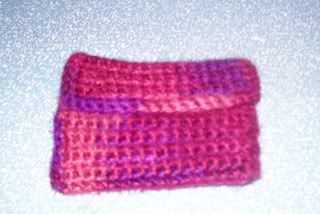 Close
Open
Has velcro to help keep it close
I also worked with Lion Brand, Suede on this one
Close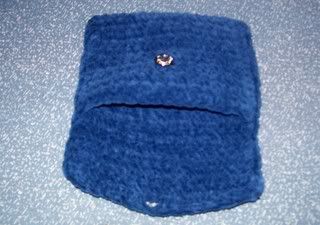 Open
Has a pretty shinny button for closure
And this one also
Close
Open
Also have a button to help it stay close
All done with a H hook sc.
Very easy to do.
Also want to show off what I got from my FGM from the Ville some ribbons and a small crochet flower thanks. These will totally come in handle. I so love working ribbons into my crochet work.
Ok that is it for now. Wanted to update everyone. And also thanks everyone for the prayers everyone have shown my daughter and I so much kindness. I read all of everyones comments on the last post to my daughter Nesa so she can see how much everyone care for her.
Thanks blogger friends.:)Everyone take care. :)