So hope everyone is doing ok this weekend. My weekend was so so nothing to big not to small. I stayed in and crochet and sewn a bit. No party girl this weekend.
Oh, Note to my Swap Swap Gals check out the latest post on our blog ladies since there isn't not March Swap I still have a little some some going on over there incase you gals like to join in. Go ahead go read it. ~~~~> Swap Swap Gals
Ok for those that knowns about my
Swap Swap Gals
group blog we did the "All About Hearts" for a Feb swap and
Christina
was who I sent my swap package to. Sorry didn't take any pictures of the package but,
Christina
took a great picture of the gifts I sent her you can check out her blog to see that. Also she was one of my PIF's (Pay It Forward) so since I was sending the swap package I went ahead and sent her PIF right along with her swap package of course I had to make my wonderful purse for her.
I did snap a picture of the purse.
Pretty huh, Everyone will have to fight Christina for it lol. :)
Done in double strands with 2 different color Red Heart yarn. Has a button for closer with a double strand rope like strap. :)
This purse was worked from the bottom up. Starting with the base of the purse and worked up.:)
Now on to my weekend projects.
I whipped up a crochet purse I was trying something new. You all know me always open to try something different I get bored with the same things over and over.
Front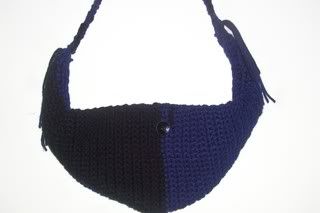 Close up on front
Inside
Done in double strands
Has a button for closer
Nice long rope like strap
Done in Soft Navy Red Heart and Black
Just was trying something new here. It turned out nice so so. :)But, have another way how I want to do this purse next time.
Oh by the way my own pattern as always.
Well from me making those newsboys caps last week. I wanted to do me a new one. So I whipped me up a Soft Navy newsboy cap. I whipped this up on Friday while sitting at the doctors office with my mom. She was just showing off my crochet work to the people that was there and to the doctors and all saying this is what my baby did lol. My mom just oh so crazy. Well that did get me some customers lol. :)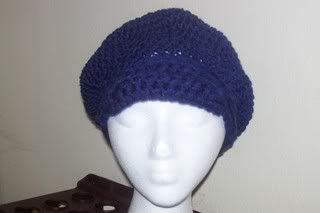 Cute huh?
Ok now on with a little bit of my sewing. I finally cut out the fabric for my jacket omg that was the most cutting I ever done in a one time sitting.
Now after doing that I got started a bit on the front and side of the jacket so got to sew a bit this weekend.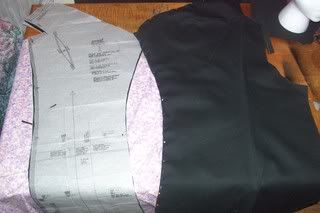 As you can see not much but, something. Still have much to go. But, after getting started on it. I noticed that the black denim wasn't the black faded denim that I wanted but, I want to keep on working with it to see how it turns out anyways. So wish me luck on that. I have been getting mad at my jacket lol but, trying to take brakes here and there so I wont go crazy with it. First time doing
me
a jacket I always do my kids jackets but, never myself. So everyone be clapping for me.
Ok me and my kids was playing around with my camera so I took a couple of snap shots of them this morning.
There go my baby Nesa.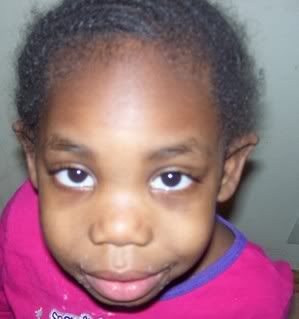 And my baby Nellie that just turn 3 on March 4th. Don't mind her face she was eatting mash potatoes. :)
So there you go my weekend. Hope everyone had a great crafty weekend everyone take care.:)