Well it haven't been that long. Just been having some family issues everyone know how that can get. It's summer and lots of people I know is moving in and moving out so been helping family and friends move. Nesa and Nellie been having fun with there dads so I have been having sometime to myself mainly out going to clubs, going out to eat and to the movies so been having a little ball for awhile. I have noticed that I haven't been doing much crocheting last time I crochet was July 23th and that is when I finished up my shrug jacket I was working on. So here is my latest crochet project.
Front
My shrug jacket
Started on it July 8th then stopped for awhile and started back on it July 23th
Finished it late on July 23th
Done with Bernat Cotton yarn called, Frost Cherry
Done with a H - hook
Stitches are double, single and chain
Back
Close up
Also decided to crochet on some flip flops seeeeeeee:
Before picture:
After picture:
Done it with single crochet chain 2 then single crochet around. Whatcha think?
Oh finished my sister baby blanket finished that also awhile ago
On July 23.
Here goes
Yarn used, Sayelle called True Blue and also Yellow
Stitches are double and single
K - Hook
Close up
I haven't finished sewing my shirt that I had put on hold for so long decided to get back to sewing it sometime this week it's been laying on the table just laughing at me because I don't have much to do with it but, I just been holding out on it.
There go my latest update have another week to myself so I will have all the fun I can have until the girls come home. We supposed to be going to 6 Flags Great American hopefuly this weekend coming up. That would be fun.
What's on my crochet hook.
Well right now started on another shrug jacket done in mohair.
Also working on and off on my sudoku blanket.
Also have to get started on my moms throw blanket.
My cousin wants me to do her a cardigan wrap.
I have some other blankets/afghans in mind to do that I want to sell.
Trying not to overload myself so I will have to come up with a small project soon. Doing so many big projects and not small projects I tend to get overhelmed.
What's on my sewing table.
Right now working on cutting out the pattern to this one.
I picked some blue and brown fabric for that main shirt on the pattern. Love this shirt hoping to comes out right.
Now other patterns in my future line up to try is.
A trend coat. Want to try to do this around fall time.
More line up sewing projects.
Would like to try this pattern to do the denim jacket and the long leg pants.
Also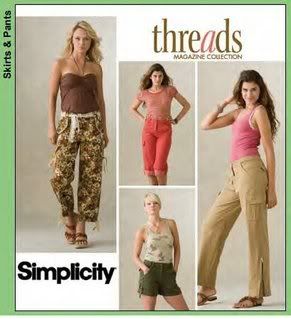 Would like to try the pants that has the zipper below this will also help me with doing pockets on pants and zippers on pants haven't yet to do that yet.
Also one of my cousins has some patterns of her own that she want me to do somethings for her. My family is totally loving my talent lol, using me to make something smaller or bigger for them.
Also on my sewing table is me a chopped denim jacket I yet to sew up. A baby bag for my sisters friend. I haven't sewing a purse or bag in awhile so that would give me a little of a different pace there. A lot of other baby stuff sometime before this year is over. Because my sister is due in Februry and I know she is going to want somethings she already been naming things she want and picking out sewing patterns. Hummmm I think that is it for now.
Hope everyone had a great weekend. Will try to update again by next weekend first I have to pick up the pace on my hobbies again. :) everyone take care.
Thanks for stopping by.