Yep just have to brag.
Well ready to start off by say thanks to
Gold
you the greatest. I received my PIF gift from Gold and totally love all she sent me. I rather show then tell.
Here goes: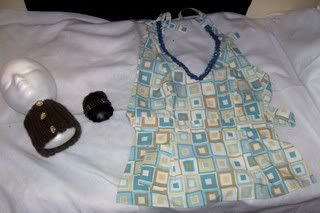 I got a pretty apron, bracelet and warm and cozy neck-warmer.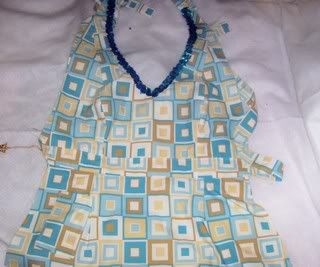 Close up on apron, cute aint it. Now no more complaining about me putting food on myself.
Close up on bracelet OMG I love this bracelet it's oh so cute, what woman can't turn down any jewelry.
Close up on neck-warmer, oh so cozy.
Thanks again
Gold
(HUGS)
Ok still a little more bragging going on today. Well I order my sewing machine and serger on Friday well guess what didn't take long as I thought it would got it yesterday afternoon. As soon as I got them I was like a little kid in a cookie jar ooooing and ahhhhhing lol.
I sat reading and figuring things out. The sewing machine came easy to me it is a second natural to me when it comes to sewing machines. I just love that when you pick a stitch it will show on the LCD screen what sewing foot you will need for that stitch. I was so used to figuring it myself with other sewing machines so this one does comes in handy.
Now there is another story for the serger hanging in there getting to know the serger lol. Just learning my tension with the stitches and so on and so on but, still getting the hang of it. Have to get used to putting so many threads on all at once but, it does really pay off in the long run.
Here goes my sewing machine: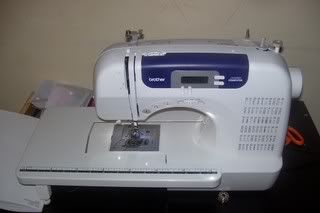 And my serger:
Sorry about the mess on the table it's my sewing table get's messy from time to time lol.
I am so glad I got this sewing machine and serger at a great price they new never been open well until I opened it lol. All the things that said, will come with it on the outside of the box was totally included. A great price of total $421.00 oh by the way that include shipping and handling that is totally great hmmmm wondering where I got it from well how about I say E-B-A-Y. For those that don't know much about sewing machine and serger. Well that computertize sewing machine I got will run you from 250.00 to 350.00 or higher somewhere else. The serger I got will run you from 400.00 to 1,000 depending on where you get it. So now think about it great deal I got hmmmmm. I think so. I just can't back away from a great deal when it is in my face. :)
Here go a little practice I did with the serger:
I finally went back to Nesa denim jacket that been waiting for me for a bit. I did the collar and have to say I like it a lot. The serger did a great job on the outside of the collar giving it that clean look. I never had a collar that I made turn out so well done. Cute aint it.
Ok for those that knowns about my sewing challenge that me and my sister going to do we haven't yet got started. Hoping to go to Joann's this weekend to get all our fabric. You all will know when we start. Pictures of our fabric will be on my blog.
Well that's enough about my show and telling or better yet bragging lol.
Everyone take care Happy Valentine's Day everyone.:)