Well not much sewing or crocheting progress be cleaning the whole house since I am ready to get a lot of new things so haven't had much much time. To really sit down and enjoy my hobbies. Also have so many big projects lined up to the point I had to give those a brake and do a couple of small tiny projects so I wont overwhelm myself.
Last night while laying in the bed I did a wrist pin cushion so here it go. Need a small project that wont take forever to do.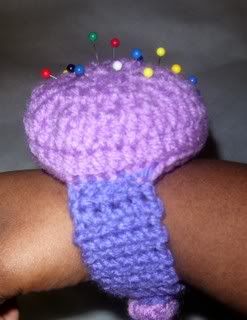 I made a crochet button hole on one end and a crochet button on the other end so it can close around my wrist.:) I just love pin cushions as you all can see lol.
Don't it look oh so cute
Also another small project that I started earlier this week been done with it for awhile but, kept forgetting to take pictures.
A small black and white pillow just a small pillow to throw on my futon.:)
I used a cross stitch pattern for the small design in the middle of the pillow.
Also to my
Swap Swap Gals
our February swap theme is "All About Hearts" sign up for that is on our blog.:)
I've been hunting and hunting to buy yarn but, I am very cheap if you ask anyone. I am that type that just can't buy yarn that cost way to much for 1 skein I like to look for bargins. But, at time I want to step away from buying the same yarns over and over so and try some new things so I went looking around the net and found this website called
Smiley's Yarn
and checked it out seen a lot of the yarn I do buy and some I always wanted to buy but, due to it costing so much so after reading everything on there website and checking out the prices I so liked it. They yarn starts from 1.00 to 3.99 a skein they have so many yarns like Lion Brand Suede, Red Heart TLC Wiggles, Lion Brand Chenille, Bernat Miami Ribbon Yarn, Bernat Caress, Cervinia Amalfi, Red Heart TLC Heather, Cervinia Genova, Jamie Classic, Bernat Galaxy, Patons Brilliant, Cervinia Softer Mohair, Paris Mohair and lots more yarn also crochet books, hooks and knitting needles.
But, there is one rule to there website you have to spend 40.00 or more but, the good thing is that the shipping and handling is only 12.95 for ever order no matter if you spend over 100.00 on there site your shipping and handling will stay 12.95. The good thing about it is that I brougnt 47.84 worth of yarn after counting the skeins of yarn I was amazed at how many I got. I got 52 skeins of yarn for the total price of 47.84 amazing huh. I know it is to me because from the yarns I brought most of those will cost in stores from 2.99 to 10.99 a skein so you have to say that was a bet. So for those that love yarn like me go check out the site.:)
So other then me finding great yarn bargins and searching for good sewing patterns I have been cleaning my butt off for new things that I am getting. Soon as I get my sewing machine and serger you all will be the first to see what amazing work they both can do lol. :)
So everyone take care have a great weekend. I have to get crocheting. I think I will do a couple of small purses and wait for my yarn order so I can get started on some of my swap gifts.:) Again have a great weekend.