I've noticed it is time to update real quick have a few projects going on at once but, some are due to my
Swap Swap Gals
swap "All About Hearts" so can't show those sorry.
Yesterday I was in the house looking out at all that dang snow we was hit with a snow storm and now have 13 inches of snow but, there is between 13 to 19 inches of snow all over Wisconsin area. Schools, malls and lots of business was close yesterday due to the snow so me and my girls just chilled in the house. I got a bit of crocheting done and some sewing.
But, I did finished up a nice crochet handbag that I like it's so cute thinking about putting it on my etsy shop.
Here it goes:
Front
Back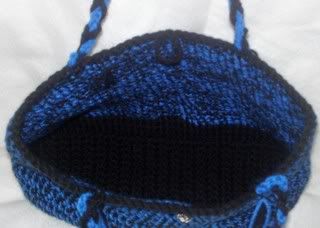 Inside
Close up
Done in double strands, black and blue Red Heart with a I hook nice pretty button for closer short straps.
Ok here go a little 15 minute sewing project I whipped up real quick. I haven't yet to get my new sewing machine so I am still working with my old Singer so I went though my fabric stash and found this pretty orange fabric that I totally think it would look oh so good in my kitchen it also go with my new kitchen set that
Ashley
sent me for our January kitchen swap for
Swap Swap Gals
. Check out the fabric don't it look oh so cute.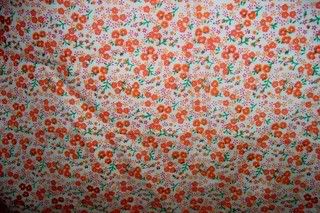 I whipped up this curtain in now time. The fabric was just right all I need was to cut it down the middle to get two pieces. Sew it up on both sizes of the 2 pieces and sew a casing at the top for the curtain rod and proof there you have it.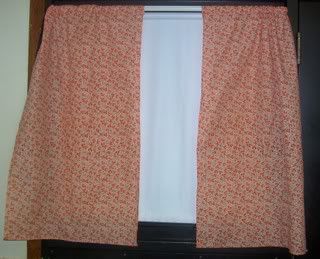 View 1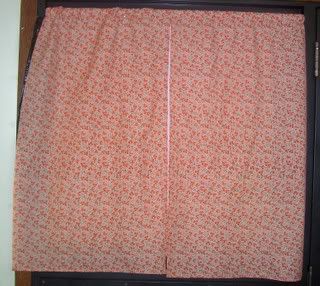 View 2
Ooooo
Ashley
Nesa, Nellie and I enjoyed the M&M cookies that was oh so good thanks a much.
Dont they look so yummy.
I had so much cookie dough leftover that I put it all in a cake pan and made one big hugh cookie.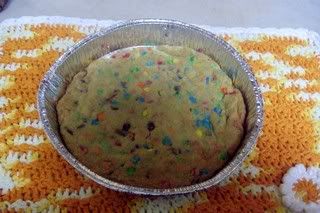 Thanks again
Ashley
we loved it, loved everything you sent. I will totally have to give that recipe a try again. Now this upcoming weekend will be the Butterfinger cookies.:)
Ok my blog readers. My little sister challenged me yesterday. So I have to take her up on this challenge.
Well when I get my Brother sewing machine and serger I am giving my sister my sewing machine she knowns how to sew a little but, yet to see her sewing clothes but, she want to challenge me in a contest so I am taking her up on it. It will be like a Project Runway kind of thing.
It will start when I get my sewing machine we is giving ourself a week to finish a outfit the theme outfit will be
"Out Clubbing"
I thought a week would be good since she is in the learning progress.
We will do whatever we think would be nice to wear out to a club for ourself. It can be a pattern or our own design. I want to try to take pictures of our progress as we go on and on for that whole week then take the finally pictures of me in my outfit and my sister in her outfit and post it to my blog and you all as my blog readers will vote on the best
"Out Clubbing"
outfit between my sister and mines.
We don't have many rules just mainly do something we feel confrontable in we don't have a budget limit only a time limit to our little challenge. So hoping to show that off soon.:) I thought it was great something to do with my sister. She loves to draw her own clothes design but, yet to make them so this is like a way that I can support her and at the same time she can learn as she go.:) Let the best woman win. Will totally let everyone know when our week starts.:)
Other words that is it for now everyone have a great day take care.:)