Hey feeling better. I can say I can finally get up out the bed and clean up. Nesa and Nellie helped me out a bit while I was sick. They kept the noise down. They cleaned up there room and settle with cereal and cold pizza's and fast food that my family dropped off. But, now mommie is back to her old self at least trying to be. I can said, I some catch up crocheting Saturday night felt oh so good to get my hands back on my love of yarn and a hook. I finally went down stairs to my sewing room to finish up Nesa's jacket. I know I know this jacket been waiting for a grand finishing for awhile so I can say I finally gave it a little bit more TLC.
Here go Nesa's jacket. Sorry no picture with Nesa wearing it she isn't feeling to good now herself. She's sleeping. I am hoping it's not the flu, she just says her stomach hurts and she has a little bit of a fever so hoping it isn't to bad and hoping if it is the flu that it don't get as bad as her having to go to the hossy. Since Nesa has a liver disease I always have to keep a extra eye on her when she gets sick. :( so right now I am just going to keep my eye out on her and hoping she gets better. She says, she don't want to go to the hossy she hates it there what kid wouldn't. So I just called her doctor and he want me to watch her fever. She hasn't thrown up so that is a good thing. She not to much hungry but, she is taking in apple juice and water so that is good. I just hate having sick kids. Grrrrrrrr :(
Front
Back
I also finally sat down and got cutting out the pattern for my jacket that I have been putting on hold for a very long time.
I only cut out the pattern for the package but, yet to cut out the denim that I will use for my jacket.
Here is a close up on the pattern I will be using. I want to do that blue jacket that you see to the lower left side.
Oh and for those that remember about me and my sister challenge it's still on. Now my sister is sick with the flu so will wait until I know she is feeling a little bit better then we can get that on a roll.
But, until then I will do some of my other projects I got up my sleeves.
I started crocheting this shirt for Nellie Saturday night and finished it this morning. I was going to do a pullover but, then changed my mind. I also was going to do longer sleeves but, then decided not to. I like how it turned out.
Nellie is doing great. She not sick at all mainly running around the house by herself and trying to get Nesa up to play with her. So today I had her modeling her new crochet shirt and help me rearrange some things in my sewing room. So she could stay away from Nesa while Nesa slept. I kept Nellie busy with helping me uptangle my yarn and put up fabric. So after that she just had to show off her new shirt and probably watch a movie with me later.:)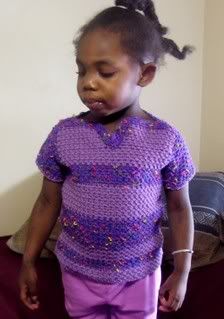 Front
Back
Ok I think that is the latest there. Just want everyone to know I am doing good. Flu is GONE thank goodness.
Oh also for those that want to take a vote at
Swap Swap Gals
on our March theme go right ahead. You don't have to be a swap swap gal to vote.
Everyone take care. Thanks for all that sent me get well E-cards, specail emails and great comments on my blog. Take care. :)