Hey everyone. My weekend was ok mostly slow but, was a ok weekend mainly crocheted a bit. No sewing done due to me wanting for my new sewing machine plus I packed up my old sewing machine that I will give to my little sister. I order my sewing machine and serger on Friday and hoping to have it within 5 to 7 days depending on how slow UPS is.
Lookie Lookie show and telling. Got my yarn from
Smiley's Yarn
the other day. Didn't take long at all. My mom asked me what I am going to do with all that yarn. She was like it aint like you don't have much already lol, I said, well ummmm I have to look at the yarns and feel the yarns and figure that out knowning me my WIP list will get bigger in my head.
See lookie lookie
Well started and finished on a kitchen rug to match all the kitchen things I receieved from
Ashley
for my swap. So I wanted to do a nice kitchen rug that I so like it's cute and of course it matches. Orange, yellow, and white. Use Sugar 'N" Cream.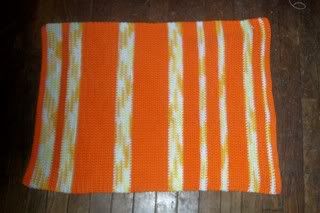 Aint it cute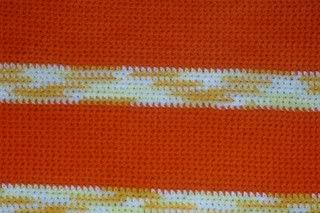 Close up
Also did another purse, I know I know me and these purses, they are so quick to whip up so I just had to do another one.
This one is a smaller purse with one shoulder strap. Also on the end of the straps are these 2 round melt things that I crochet around and attached them to the purse for a little bit more design to the purse.
Front
Back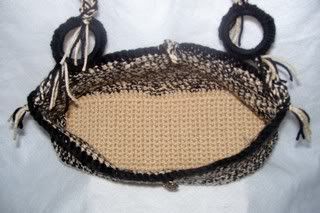 Inside
Close up
Purse done in double strands including the rope like straps.
Also got me a couple of sewing patterns from ebay. Sewing pattern collection is by Khaliah Ali love her patterns they are mainly made for plus size women from 18 and up. Haven't made anything by Khaliah Ali in a very very long time but, since I am upgrading my machine I felt it's time to do more sewing for me. Plus going to my blogger friend
Sheila
and
Gold
blog they have inspired me with there sewing projects.
Went on ebay and found a ebay seller selling all of Khaliah Ali patterns for 2.99 each so I had to get all 5 of these. Still looking for more of Khaliah Ali collection that I like.
Ok now the rest of this week I want to do some things for my swap for my
Swap Swap Gal
our theme is "All About Hearts" so need to get started on that soon.
Christina
is who I am sending a swap to and I want to make a special special package for her. I also want to finish a purse for a friend of mines mom and start on a pull over sweater for Nellie. WOW lots to do huh. Want to get all these out the way before my sewing machine comes because then my sister and I will start or little sewing challenge.:)
Ok that's it for now. Everyone have a great day.:) take care.