Well this is the first crochet shirt I've ever crocheted. I've always crocheted halter tops and tube tops but, never a whole shirt so I have to say it is lovely. Like it alot.
Here is my 2 yr old Ms. Nellie showing off her new shirt mommy made. Aint she cute:)
The first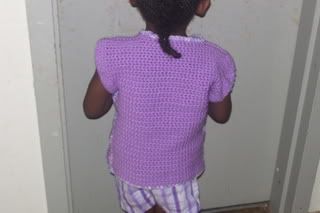 Back
Close up on front
Close up on back
This shirt is done on my own mainly free handed it no pattern followed. Done in single stitches with 2 different yarns. I watch Uncommon Thread alot and one show they had Crochet Nation on there making a shirt I mainly took how they did they shirt and there I went.
Still learning to read patterns at this point. But, shoot I've been doing just find without patterns but, would like to learn one day so I can also learn to write my own patterns some day:)
There you have it:) my first whole crochet shirt ever:) Aint it cute?