I love it. Love this purse. I am always crocheting other people purses and backpacks that I never really get to crochet me one so here goes my new purse love it.:)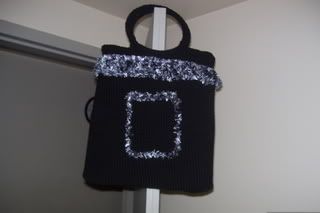 Front
Has a crochet pocket with fun fur crocheted around it. I use the fun fur around the base of the purse also. There is 2 silver handles that I crochet around so it can be easy to carry it mainly a little more of comfront to the handles. :)
Back
Inside with all my things.
Inside there is 4 pockets. I used the fun fur yarn to do crochet edging around the pocket I thought it would give it a bit of a big pop to it so it wont be all just black.
Here go a bucket I put together after seeing a post on Crochetville this lady got bucket that mainly for her crochet hooks. SO I decided to try to do me a bucket and have to say it turned out just right. I like it it can be used to have my crochet hooks and my yarn for the small projects that I am doing at that time. The bucket was a old cotton candy bucket I have plenty of them since the kids love cotton candy thought I would put some to used. I want to make a bigger bucket soon. :) This was like a practice so then I know how to do it bigger. But, will put this one to used for sure. What you all think about it.:)
I used denim for the outside then used pastic vinly for the pocket area for the crochet hooks.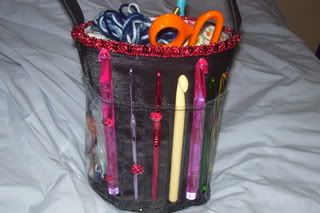 There is also a handle that is out of the denim fabric.So I can carry my bucket around the house:) I also used some red pretty ribbon to line the outside of the top of the bucket for a little design.
Inside to put like my scissors and my yarn for the projects that I am doing at that time.
Really like how it turned out. So what do all you all think?