TGIF I finally get to sit down and check my emails and post on my blog. I finish another purse that I love. I have been taking it everywhere with me since I finished it. Got a lot of ohhh's and ahhhh's from everyone about my purse so wanted to show it off on my blog :)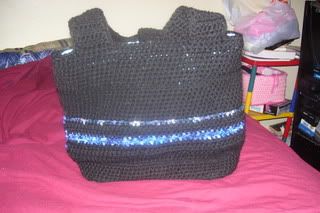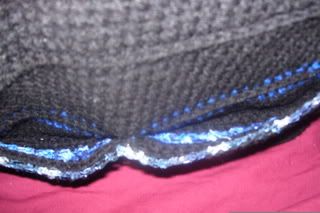 Have 2 pockets on both sides of my purse :)
Just had to put in a pocket for my cell phone can't never find my cell phone when it is in the bottom of my purse so this helps me a lot more here.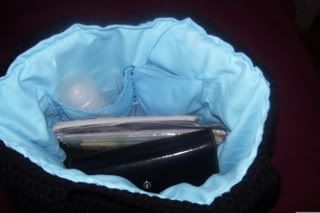 The inside also have 2 pockets the linning is a sky blue color love this color:)
Want to say thank you to a blogger friend of mines she sent me a Knifty Knitter and I love it. Thanks
Sheila
I love it so much thanks :) As you can see here I gave it a small test run. Just testing it out and seeing how it works like it a lot. I am so crafty that I always like to try something new every now and then but, I am not that type to give up on my sewing and crocheting either lol. I will get the hang of the loom knitting and soon give it a shot with knitting. I taught myself how to crochet so I aint scared to teach myself new tricks every now and then.
So giving it my all been praticing because I am so tempted to learn to do the loom knitting.
So tempted that I brought myself the round ones today and been on the net getting information on how to do these loom knitting. Oh if you know me I had to get me more yarn I am so addicted to yarn lol. The small yarn to the right I will be using those to crochet my oldest daughter some belts for her jeans. I get her the right size jeans but, due to her being so small shaped below her jeans tend to fall off of her and she picked out those 3 yarns for 3 pairs of back to school jeans I brought for her. :) she can't wait to go back to school. Tell you the truth I can't wait either lol. :)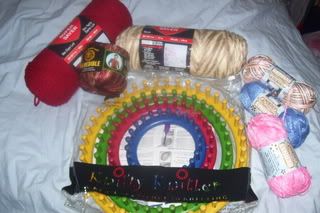 Everyone have a great weekend. :) I surely will try to. Have a lot of sewing this weekend doing my sewing area mainly cleaning up and straighting up a bit. :) I also brought 4 movies for this weekend. Vacancy, Perfect Stranger, Hot Fuzz and Fracture. I will surely be laying back in my bed watching my movies and crocheting.
So what is your plan for the weekend?