Ok quick update. A lot of women from Crochetville has sent my daughter Nesa some crochet squares that I am still trying to put together for her a blanket. Due to my oldest daughter having a liver diease I wanted to have a special blanket for my daughter for those times that she is in the hossy. So there is this nice lady from Crochetville that wanted to send my little daughter Nellie something so she wont feel left out. Thanks Moomoo/
Lillibet
so much my daughter loves the blanket.
Here goes the pretty kitty blanket :)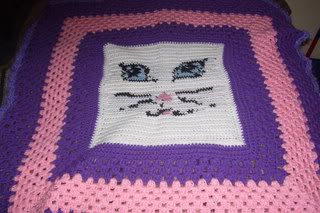 SO cute. Thanks a bunch Lillibet:)
She loves it.
Also I went to a yard sell today came across these small sewing machines the owner said they are in great shape and she was asking for 10 dollars each so I got 2 of them for my little girls.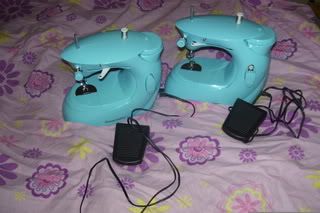 Here they go.
They both do work great but, I didn't buy them for me or for them to be used. They came with the foot paddle and the plug part but, I took the plug part out and used them for my girls to play like they is sewing. They always try to do what I am doing when I am sewing so this just made them want to learn more.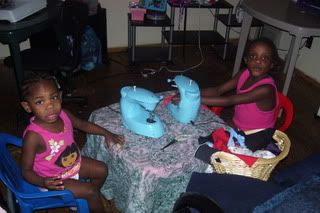 Aint they cute, tring to be mommy :)
Ok I finally got 2 pics of my niece with 2 finish headbands here she go. :)
Awww look at her aint she so cute. :)
Awww look at her again :)
There you have it a quick update :)