Ok for those that don't know I started a swap blog called
Swap Swap Gals
our first swap started this month the swap theme was kitchen.
Ashley
was my swap partner and omg she is a totally doll. I got my package today and my mouth dropped when I opened the box. So let me take you on a tour of the things I got for my swap.
Thanks
Ashley.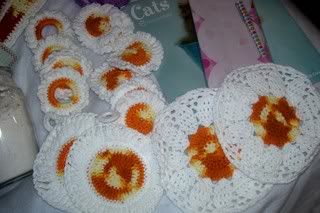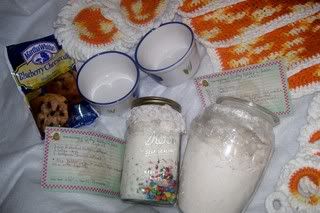 Ok ready to take you on a tour of things I got.
6 medium crochet coaster
4 napkin rings
2 dish cloths
2 hot pads
2 pot holders
2 fridgie magnets
4 place mats
a crochet caddy mug with a f hook
candle
kitten calender
2 glass bowls
note pad with pen
blueberry cheese cake muffix mix
ohhh most of all the Butter Finger and M&M Cookie mix
Ok I don't think I left anything out. Thanks again
Ashley
you is the best was so happy to see all the things you sent. Thanks.:) Just picture me doing what the little boy on HOME ALONE did lol then you will know how I looked when I open my box.
OK thats all folks just like I promise
Ashley
I wanted to show all of my goodies from my swap.:)
No crochet or sewing update just yet blogger friends.:) Everyone take care.:)