That is what everyone is saying I cant put down my hooks lol. But, here go my latest projects for my girls.
My little girl Nellie in her peaches and cream faded denim shirt. I love this yarn seen it on Uncommon Thread once before and had to get it. :)
Front
Back
Now here go my oldest daughter Nesa in her blueberry pie red heart shirt:)
Front
I love how it looks in the back if you take a closer look you can see that the light blue makes it looks like diamond shapes in the back of her shirt cute huh?
Now here go my daughter Nesa again in her cardi or you can say short sleeve jacket. I thought this would be nice to wear in the fall with some jeans:)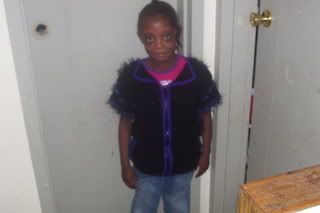 Front has a zipper it is also fun fur yarn on the shoulder and at the end of the sleeves to give it more jazz at least that is what my daughter wanted lol:)
Back
All my lastest projects:)
So what you all think ?