As some lovely ladies from the
CVille
and friends from the blogging world donated my daugther some cute crochet and knit squares. I put them together as they come in the mail.
So far so good. It's coming along great. Loving all the squares that is being donated. My daughter Nesa is so happy as more packages roll up and she get to see all the cute squares. She sits right by me while I put the squares together asking me when can I have it. lol
Hoping to be done with her blanket/afghan by the 20th so she can take it with her to her next surgery on the 23th.
I would like to thanks so far for the squares that we got from Cindybmv2004, Jessicagal, MarleenCrochets, Peggy85225, Pat54 all from the
CVille.
Thanks ladies.
Here go the progress so far.
So cute aint it?
So far so good. As the squares come I been putting them all together. Will keep updating my blog on how the blanket/afghan is coming along. As you can see Nesa love Mickey Mouse.
While making this blanket made me think back to when we had went to Disney World for Nesa's "Make A Wish" At Give Kids A World.
Here go a couple old pics for our Disney World trip.
Nesa had a ball.
When we first got there Nesa was happy to get Mickey and Minnie Mouse:)
And here she goes. Taking pictures with the characters from Lion King sorry don't remember there names LOL:)
And with Tiger:)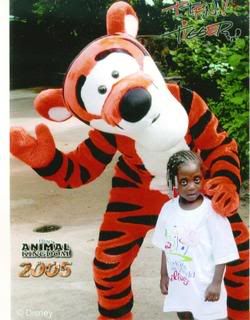 and with Winnie The Pooh.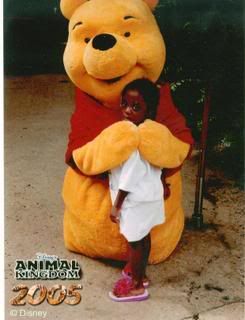 This was back when Nesa was 3 but, she remember it. She keep asking when can we go back to Disney World.:) So for her "Make A Wish" It was free I didn't have to come not one dime out of my pocket but, one day one day hoping we can go back.:)
Really haven't been doing a lot of other projects. Getting Nesa blanket has been number 1 lately. But, a couple of future projects has got started a little bit. That is another afghan but, for me. Didn't know how much easy it would be to do a afghan never done one bigger then a small baby blanket so decide to do one for me to throw across my bed. Also another afghan for Nellie. So so far have 3 afghans to try to do all at once.
Also hoping to start working on a cardigan for me. Waiting for some yarn I got from Ebay to come. OMG I can't wait until all this yarn I got come I want to take pictures because it's a LOT. But, I already have plans for most of the yarn and I havne't got it yet lol. So when that come in want to start whipping me up a cardigan. I want one due to when Nesa is in the hospital it tends to get cold to me and thought instead of walking around with a blanket around me I could have a cardigan to wear around the hosptial. Something not to hot but, can keep me from being a little cold.
So that's that for now.
Everyone take care. Thanks for stopping by. :)