June 10th was my baby girl Nesa's bday she is now 6 years old. Awwww. My baby is growing up so fast.:)
Here go Nesa's cake aint it cute.:)
It says Happy Birthday Anissia, Anissia is Nesa's first name:)
Nesa picked out her own cake.:)
She had a little bday party at school with her friends.:)
There she go and Nellie sitting right next to her big sister. They both in there new outfits I made this pass weekend.
HAPPY BDAY NESA:)
So now on with my pass weekend projects.:) Sewing projects.
Here go Nesa cute little Tinkerbell dress I made for her and a matching one for Nellie.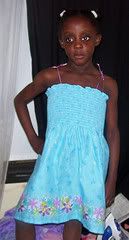 Front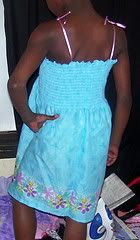 Back
Now here go Nellie
Front
Back
Now here go another outfit I made for Nesa.
Front
Skirt and shirt
Started on June 8, 2008
Finished on June 8, 2008
Worked on both on and off
Back
Close up on shirt
The shirt has ribbons for the tie on the shoulders.
Close up on skirt
Skirt has a little ribbon around the skirt at the bottom for a little design with a bow.:)
The pattern I followed for both of these I can't find a picture of it on Simplicity. That must means it's a old pattern or something.
But, other then that. I am sewing a couple more outfits for Nesa and Nellie. I started cutting out a pattern for me another outfit. I also been picking up my crochet hook from time to time at night when I am curled up in the bed with a good movie. I am working out a little some some for Nellie. Hoping to be done with it by this weekend or say.:)
So there you all have it my latest update. Everyone have a great week.:)