Well now it is summer vacation for Nesa. She is happy to be out of school. Now I have 2 to drive me crazy lol. But, hope everyone is having a great weekend. So far so good. Me and my girls plan on going to the zoo sometime this week. They more want to go to the water parks to get wet. Our weather here in Milwaukee is to confusing for me to have them going to get wet.
Nesa have another surgery coming up this Tuesday so I wanted to update my blog this weekend because aint not telling when I will have time again. But, I do get to get in some crocheting from time to time.
I was supposed to had put my hook down for awhile, while I worked on some sewing projects but, I found myself picking up my hook again from time to time at night while watching tv. I guess I couldn't keep the hook out of my hand to long.
So here are my latest crochet projects. Have to say I totally loved how Nellie outfit came out.
I made her a belly tank top that ties around her neck and tie up down the back. I liked what I did to her other tank so I decided to do another one but, a little different as you can see. Oh also made her a skirt.
Awww look at Nellie.
Front
Skirt, tank top
Started on skirt on May 30, 2008 Finished June 7, 2008. Took a couple of days of brake for this.
Started on tank on June 8, 2008 Finished June 10, 2008. Again took a brake from time to time.
Both done with a H hook
Done with single, double and treble stitches
Yarn used was Caron Simply and Soft in purple and white
Back
Close up on skirt
Close up on belly tank
Now I decided to do me another outfit. Wasn't so glad about how the shirt turned out I know next time not to use Sheer fabric again. But, I worked with it hoping it paid off and it pay off ok. I changed up the sleeves a bit then what the pattern asks for. I cut if father up I liked it that way more.
Midnight sewing/getting my sewing on while the girls are sleeping.
Pattern used for shirt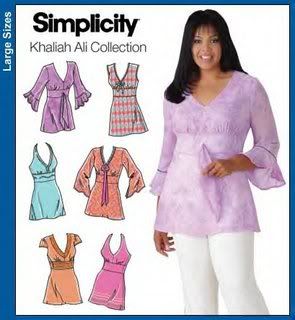 Front of shirt and capris, no pattern used for the capris
Shirt took about 2 to 3 hours worked on it on and off this shirt gave me a hard time.
Fabric sheer for shirt
Fabric for capris double knit
Time on capris was about 1 hour or so
Front again
Back
There you have it my latest projects, sewing and crocheting. I have another sewing for myself hoping to get started on it sometime Sunday or Monday. First hoping to make my dressform since I haven't been able to buy one that I like. I decided to make me one. Duct tape is the key lol.
I have a couple of small projects to do while I am at Nesa's surgery something to keep me busy doing that time.
Other words hope everyone have a great weekend. Take care.:)