Totally not talking about hair weave. So this is what I have been working on.
I decided to try something new yet different with fabric. I've always liked how weaving looked in baskets. But, I yet to give it a try. So I cut up some stretch denim into strips
As you can see here:
I cut a lot of strips.
So now work with me so you all can see what is this going to be.
No not a basket lol.
Here I laid it out into the weaving order.
Pinning it into place and top stitching over it to keep all the strips in place.
Still wonder hummmm what am I doing.
Here I then cut out the pattern I wanted. Can you tell what it is?
Now you can see what it really was.
See some capris shorts whatever you like to call them lol.
Cute aint it.
Front
Started on June 23, 2008
Finished June 24, 2008
Took some brakes in between time but, got to finish around 1 am
No pattern followed
Use stretch blue denim
Back
I just was trying something new yet different. Liked how this turned out. But, now I would like to give this a try again but, with like 4 or 5 different color denims to make me a short denim skirt. I thought that would look oh so nice.
I did get this idea from watching way to much
Project Runway
can't wait until the new season starts next month. :)
I did have to put in linning in the inside of that one weaved part to keep from seening my skin though the gaps in between the weaving.
But, this did come out nice. Liked how it turned out.
So what you all think?
Also a quick update on the WIP on Nesa's blanket so far. I got the center piece done.
See here:
Also got to do some squares
See here: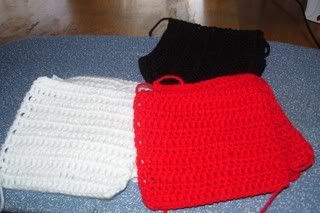 Now have more squares to do and waiting for some lovely squares from some lovely ladies from the Ville.:)
There you have it.
Everyone have a great week. Take care. Thanks everyone for the love and support you all have given. Thanks.