Well thanks goodness it's Friday. Been trying to catch up on house work kids driving me crazy lol aint that's always. Trying to see if I can have the weekend to myself this weekend. Been trying to take care of my oldest daughter blanket that I've been trying to put together so far I've been weaving everything together. Still have more people that will be sending squares so want to fit those into the the blanket this blanket is going to be a very big one. Lots of squares thinking about if I can't get them all into the blanket will use the rest to make her a pillow want to put them all to work. Other words I haven't been sewing in awhile took a brake from that since I'm trying to catch up with my crocheting that I did take a brake from due to my wrist hurting to much. But, anyways kids doing ok running around playing messing up the house you know kids stuff. Here is a quick update.
Received some more squares thanks ladies. You are all the best. :)
Crochetville ladies are wonderful:
Thanks
KristenMN
Hunnibee5414
Tracyleigh
Lisaizme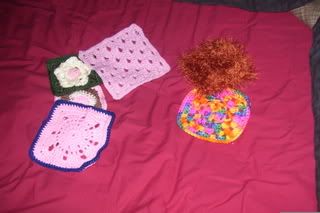 I love them all.
Update on my sewing projects well just looked over at my WIP sewing projects and surely I have to get busy plus I have some young girls that stay over here by me that would like for me to make them a couple more tank tops and halter tops. Yeah I will need to make some extra money there. Then sometimes next week want to take the kids to Great America don't know when but, sometimes next week. Since I am going to be making a little extra money this weekend so might as well get spending it. Please if it wasn't from my kids wearing off what I make people wont be coming up wondering where they got there outfits. When I say I made it they be so suprise then the want me to make them or ther girls something nice. Oh also my mom's friend daughter is opening up a wig store she wants to sell other things besides wigs she want to sell hats and scarfs and more but, after she seen the backpacks I've made my girls she ask me would I like to make some to put in her store and she will pay me for sure. I was happy to say yes. But, I also want to make more differnt kind of backpacks not just stay on the same thing to long like to change it up so after I finish my daughters back to school backpack I want her to check it out and let me know how she likes it. I also want to open up my crocheting a little bit more. After all these ladies that have been sending me squares and dolls and so on and so on make me want to try to do the toys like a rabbit or something that I can make into a backpack. I was thinking about that just a thought that I think I will do. Like a square like backpack for my daughter but, have the flap on the backpack be a face and make legs at the bottom of the backpack and make arms. Or was thinking about doing a small carry along backpack like that for my little girl. Because for my oldest daughter I need something that is able to fit in all the things she need for school. :) Ok got to go check on my chicken that I'm cooking for dinner tonight. :)
Thanks for stopping by my blog.