Wanted to start off by saying I am finally on Ravelry like it so far. Running into more crafty people and also running into those that I already know on a couple of yahoo groups and crochet boards oh and a couple of those bloggers out there. So if you looking for me on Ravelry of course I am listed as Lesalicious:)
Ohhhh ok now back to what I really came here to post I can say I am finally done with my bolero been putting it off and off due to me doing so much but, finally got my butt up and brought some more zebra yarn by Red Heart to finish up my 2 sleeves on my bolero. Have to say I like it, it came out great. Looking at my pictures I realize dang my tot tots are way to big lol. But, here go a couple of pics.
Front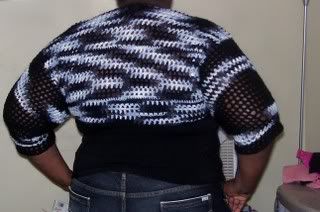 Back
Close up.
Like it. It ties in the front on the side. Finally done with this.
So what do you all think?
Thanks for stopping by comments are always welcomed.:)