Well gave it my all and have to say I like it. Been working on this on and off for 2 days would have been down sooner but, had some sewing to do for some friends but, here is my progress.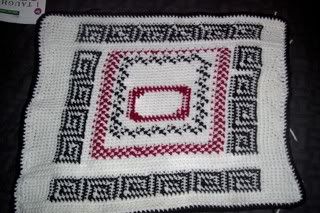 Haven't yet decided if it will be the center piece of a blanket or a pillow but, wanted to show off what I have so far. Have to say it turned out ok. I like following grid lines to come up with a nice crochet center piece. I liked it so much that I came up with my own design to do a Sudoku blanket. I know I know that would take some time lots of time but, I want to give it a shot and go for it to see how it comes out. I have plan to get start on it tomorrow at least start it off.:)
But, this is the design I followed: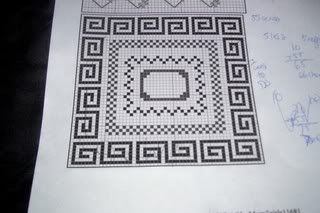 Sorry I took a picture of the paper upside down but, you all get the picture of what I did. I also didn't do so well with the red in the center but, I gave it my all and I like how it turned out. I have many more designs I like to do one day but, so you have it.
What do you all think?
Also should I just stop now and make it into a pillow?
Or should I keep going and make it into a blanket?
Haven't yet decided but, I am open for others opinion.
So thanks for stopping by to read my blog have a great night or day depending on when you ready this.
Take care.