Well it's Monday weekend is over. I have alot to do today at my daughters school so wanted to post on my blog before I leave because I know I wont be able to get back online probably into tomorrow. So here goes.
I did my daughter Nesa a shrug I sewn it love the fabric I found at Walmart for 1 dollar a yard so I got 4 yards. After finishing up her shrug I felt it was to plain need some jazz to it. So being the crocheter I am I had to do some crochet edging on it.
Dont mind her Winnie the Pooh grown I had her try this on last night when it was time for bedtime but, you all get the picture.
I also have plans to use the rest of the fabric to make a matching shirt to go under her shrug with some crochet edging at the end of her shirt. Update on that later in the week.
But, until then more shrug pictures, I use yarn by No Boundaries love that yarn so soft.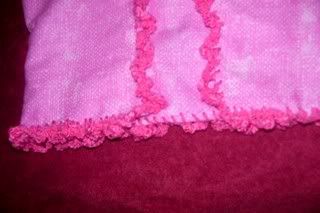 Close up.
Ok I had a doctors appointment so while sitting in the doctors office and in the WIC office I had to take my yarn and hook with me and get some crocheting done. But, I wanted to do a quick project something that don't take up to much room while doing it. So I whipped up this hair rap for me today.
Side and back
Side, oh don't mind my hair need to get a lining but, you all get the picture.
Back around ponytail
Close up
Close up on the straps that goes around the ponytale.
A quick and easy project.
Chain 200. I have lots of hair and need the long straps to be able to go around my ponytail a couple of times. Mainly was done in single and double crochet with lots of decreasing to help it rap around my head giving it that head like shape.
Mainly of choice this was done by trial and error again. I just mainly used myself as the model since it was for me to keep testing it out as I crocheted.
Got a lot of people in the WIC office looking and watching me saying WOW you do that quick. Or asking how you learn? Who taught you? so on and so on mainly the same questions I always get when in public.
One woman at the WIC office said, dang girl you able to look at me and talk while you do that. I laughed because I so forgot I was crocheting because me and her was so much into our conversation. I said, yeah I am able to do this in the dark while using the tv as my light. :)
Always get lots of people wondering things when I be crocheting in public. :)
So that's my Monday ready to go get my girls dress so we can go. Everyone have a great Monday:) So what you all think of my latest projects?