Ok my girls gone this weekend so it has given me time to do some crocheting last night and this morning couldn't sleep because I was so much into my crocheting and into that move called The Reaping. I started on me another bolero and next thing I noticed while watching the Reaping I was finishing up the back part of the bolero and starting on the front. The Reaping was good I liked it. Well here is a little update on my WIP Crocheting.
Here is me another bolero this time I am going to do a zipper in the front with longer sleeves. I should be done with this by tonight but, I have to buy a zipper wont be going to go to Joanne into Wednesday or Thrusday due to my daughter going to a Halloween party at school on Monday and I am helping with some of the things at the school then on Tuesday my girls has doctors appointment and where I live I have to drive on the other side of the city just to go to Joanne so that leaves me going a little later in the week so then I should have a complete finish on this bolero.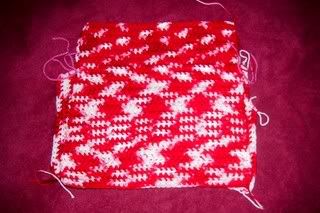 Ok WIP number 2 is my daughter Nellie a boat-neck shirt in red and white. Have to finish the sleeves and work around the collar then I will be done here also. :)
This next WIP 3 will probably be another big project due to it being my Sudoku Blanket.:) Here is a quick overall of it.:)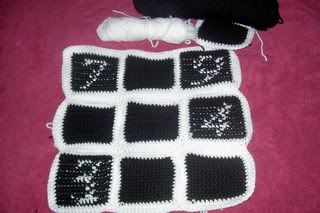 As you can see that is just the start. Don't know how big this sudoku blanket is going to be but, it is going to take time due to me having to do the numbers that is what times more time there.
This is how the sudoku puzzle look that I am doing.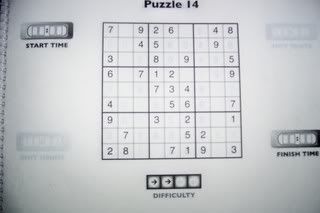 As you can see the one that is done so far is in the top left corner.
Ok picture this in your head. The first left corner that I have the picture above the background is black with white numbers with the white going around the black.
Then the middle part of the sudoku will be white background with black numbers with with black going around the white.
So it will go first box to the left black middle white right black
second boxes left white middle black right white
so on and so on :)
Ok thats my WIP crochet no pics on my work in project sewing but, have some things almost done for my oldest daughter just have to double stitch a few things and iron them then when she gets home I can take some pictures.
Ok now back to my weekend ALONE needed a big brake. Love my girls but, at times I just need MOMMY time. Have a couple of movies I like to watch while I crochet. :)
Everyone have a great weekend:)