Well been a little busy with a quick crochet project that didn't take long. Well let me start off here.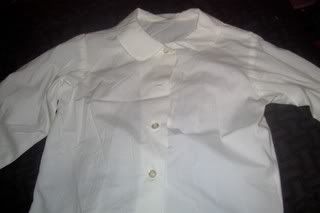 I brought this plain white shirt of my daughter. I really don't like these shirts because it's so plain but, I still buy them to jazz the shirts up a bit. Like dye it or give it a little glamour and spice to it but, this time I wanted to crochet a bolero for it. :) So here is the before and now the after.
See there you have it a little crochet jazz style to the shirt. My daughter loves it:) Sorry no picture with her she's gone for the weekend.:)
Close up.
Ok also my daughter have a denim jacket but, she wanted to add some rhimstones to it. So I went ahead and let her add some. :) here is the before pictures.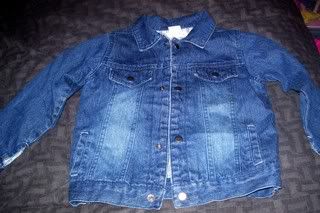 Front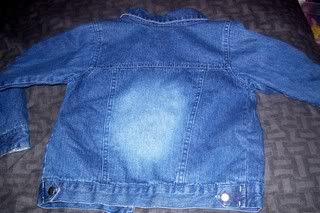 Back
Now here go the after pictures. I noticed my girls started to get so crafty like there mom (BLUSH) lol. After she was done she was jumping up and down saying mom please don't forget to take a picture of it and put it on your computer so everyone can see what I did. I told her I will put it on my computer which she was meaning post to my blog. Then she said when she come back home she want to see it on my computer so now she will be able to see it when she comes home later. :) See how crafty she is lol again just like her mom (BLUSH) (SMILE) lol.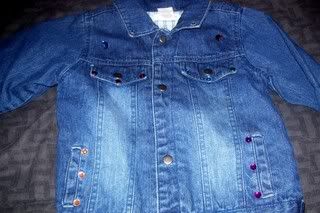 Front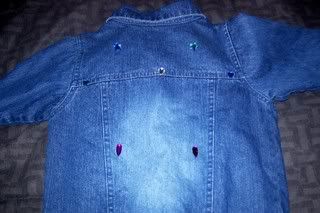 Back
I let her add just a few but, she so wanted to add more but, I didn't want her to go overboard on it. LOL plus I think when she wears it to school she going to get bored and start pulling them off anyway but, at least the jacket can have some jazz to it for now.:)
So there you have it.
Thanks for looking and everyone have a great day, weekend, night whatever. :)