Ok wanted to try something I haven't never tried when it comes to my crocheting so I went ahead and got started on trying to crochet letters. I gave it my best learning from my mistakes. So here is my first finished project with crocheting with letters.
My daughter Nesa a pillow that says Nesa My Big Girl.
Now I just mainly wrote out the words on a grid line paper and came up with this after crocheting. I was just happy that I got it ok.
I also went back using yarn and yarn knead to go over the outline of the word Nesa I realize I shouldn't have done that because it took away from the crochet part of it so I didn't finish with the other words. I know next time not to do that but, shoot this will be my girls pillow anyway. I always do things for them as my first try at things. I sewn white fabric on the back and then I crochet around the edge of the pillow with fun fur red yarn by Lion Brand to give it more design like to it.:)
So gave it another try but, this time I found a cross stitch website that has letters on grid line paper and here is my second attemp.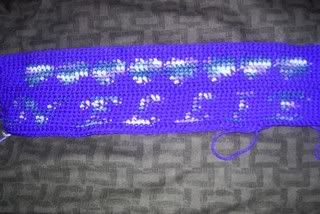 The most big mistake I did was having my daughter Nellie pick the colors but, incase you cant see the writing it has hearts at the top and then it says NELLIE not yet finished thinking about ending it right there and start over with 2 different colors but, it was my attemp to give this a try and I can't say I didn't try I did. So there you have it. I am giving it another try ready to do a design I found on a cross stitch website to see how it would come out. My mom is also asking me to do her a pillow. So want to find a design to put on a pillow for her.
There you have it my attemps to give crocheting letters a try. So what do you think? :)