I have been very busy lately and behind on a couple of my projects. I have projects sitting on my sewing table just calling my name but, I am out like always buying up more fabric to make more outfits.:) So I have a few wip with my sewing and a few with my crocheting also.:)
One of my WIP crochet: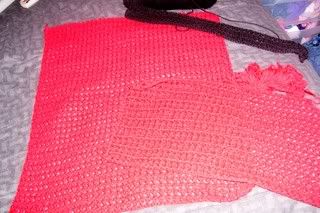 Here I am doing a lacy like shirt in burgundy so I am like about 75% into this one. Also I started on a black one that is in the picture also. That I just getting started on so will be awhile with that one.:) The lacy like crochet shirts I will wear over a tank top.:)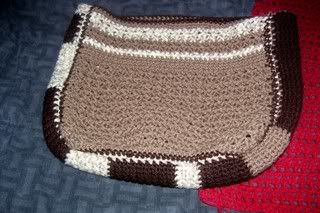 Here I am working on a brown tote for my mom just have to finish the straps and also line the inside of the tote.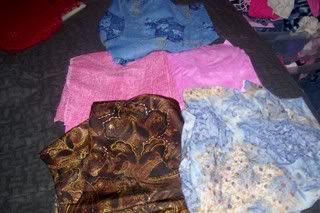 Just had to buy some more fabric:) Have some plans with all these fabrics me 4 shirts and my oldest daughter a shirt out of the pink one:)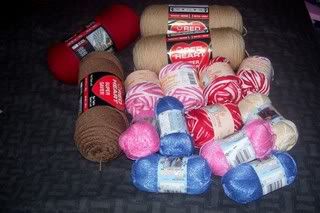 More yarn in my stash as always. The price to the Red Heart yarn at Walmart went down to a dollar and something it was 2.23 at first so looking at the price I had to grab. I also got some Peaches N Cream yarn and some thread I think I will do some shirts for my littlest one with the thread yarn. So you see I have plans for most of these yarns just have to finish most of my other wip before moving on to something new. Also winter will be soon here in Milwaukee. So I need to get started on hats and scarves for my girls. I think I will use my knitty loom to do the hats. I yet to finish a project off of my knitty looms.:)
Well that's it just wanted to update my blog for the first time this month with a couple of my wip. Now have to get my butt back in the bed and curl up and watch a movie while I crochet. Everyone take care and have a great day or night depending on when you read this.