Oh I am so tried. Happy Halloween everyone.
Been running and running all day and yesterday barely got any sleep yesterday. My daughter Nesa had to see her GI doctor OMG we was there for like 5 hours all these tests they was running was so scaring me out my mind. Her doctor is concern about her liver it is getting bigger oh for those that don't know my daughter Nesa has a liver diease called
Biliary Atresia
A diease she was born with and will always have for the rest of her life. The link will tell you more about BA just me thinking about explaining it will make me get way to emotionally.
But, well ok her GI doctor just wanted to run some liver screen test take blood get a ultra sound everything you name it he was doing. Now he want to set up another liver biopsy in a couple of weeks just to take a sample of her liver and look at it under the microscope. So I will hear from him about when that will take place.
Spent so much time there that after we left I decided to go to this used bookstore that I haven't been to in a long time. My girls love books and I do to. I found just one crochet book but, nothing more for me got my girls a lot of books.
Oh also started and finished up my daughter Nesa a scarf with her nick name Nesa on it started and finished it at the doctors office.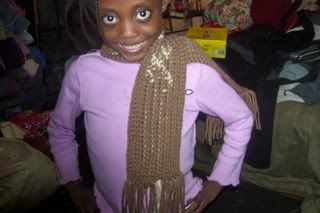 Here she go my big girl Nesa she is the one I was talking about with the liver diease.
Her new scarf is the same color as her coat.
See do you see her name NESA Oh so cute.
Here is a crochet stitch book I found at that bookstore. It has a lot of stitches and I want to try a lot of new stitches so when I seen that this book was only 1 dollar and 95 cent shoot you can't beat that. Couldnt find any more crochet books that caught my eyes mainly a lot of knitting books that I didn't want. But, here I am working on my daughter Nellie a sweater. :)
Ok woke up early this morning so I could drive over to the other side of the city to go to Joanne and Walmart I had plans to go get my zippers, some tan buttons, some fabric and some interfacing fabric and that was going to be it but, it didn't go as plan lol.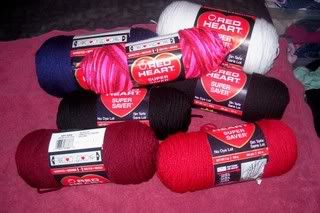 As you can see this is how it went. Here go my Red Heart collection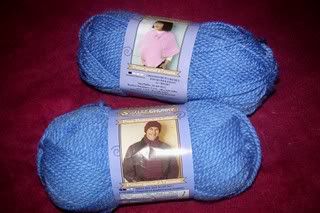 Oh by the way here is more here goes my Bernat collection. I want to make my little daughter Nellie a sweater with this yarn. After I brought it I realize that it was 2 different colors but, when you look at it you really cant tell but, shoot her sweater just will have 2 different pretty blues.
Wait wait just a minute her go more. My Caron collection. Oh also a stitch book oh and that go my knitting kit I brought that sometime last month but, I just now finding it, guess where it was lol. I have like 3 big boxes full of yarn when I got back I went though my boxes and found it way way at the bottom of one of my boxes.
This week makes 2 years that I have been crocheting so I wanted to go ahead and get into knitting also. I found a Knit Night group on
Ravelry
that meets up here in Milwaukee on Mondays. I told them I don't knit but, they say that don't worry about it there are crocheters there also and they is willing to teach me so shoot I will go ahead and give it a try this coming Monday and see how it goes.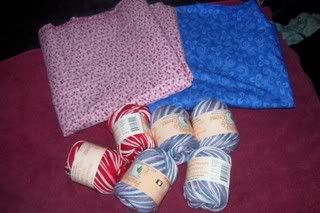 Oh that aint it here go some fabric I brought to probably do my oldest daughter some more shirts and shrugs I just have to learn to finish the ones that is cut on my sewing table first lol. Oh and also some Peaches N Cream yarn.
After reading
Christina
blog about RAOK I realized I haven't done a RAOK in awhile back when they was doing group 5 and 6 on
Crochetville
so I decided to go ahead and sign up again. I made my wish list I read a couple of wish lists and decided to send a nice lady these.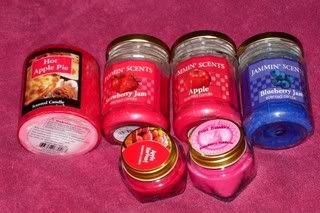 Aint they cute, and they smell oh so GOOD. :)
Oh there you have it have to go get going kids yelling at me because they are hungry lol.
Everyone have a great Halloween BOOOOOOOOOOO :)