Ok I got a little sewing done for myself yesterday was sewing up some shirts for a couple of girls that stay by me but, since I was sitting at the sewing machine I decided I need another purse love purses. So I decided to put my crochet hook down for a little while my crochet hook was glued to my hands for a couple of weeks lol.
Here is the front. A black purse with red lining in the inside of the pocket and inside of the purse.
On the side is a big oversize pocket that closes by velco. The inside closes with a magnet snap, and 2 straps.
Back
Inside had to put my things in. Look at how roomie my new purse is. LOVE IT DON'T YOU LOL.:)
Ok my hook didn't stay gone to long as you can see here below.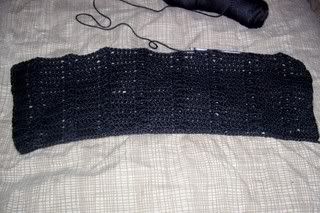 This is the start of my long V-Neck shirt. Just getting started hoping to finish by this weekend or earlier if possible.
Here is the close up on the stitches. The stitches is called, "Climbing Shells" Love the stitches. :)
My new crochet project is to work on me a shrap and newsboy cap to match. Need to get back started on my sudoku blanket. I noticed when it comes to blankets I tend to get so excited about starting one but, then sit it aside for a couple of months or so then comes back to it. I do have plans to try to finish it before 2008 so keeping my fingers cross. :)
Oh I also didn't go to my Knit Night meet up last night due to my oldest daughter Nesa not feeling well she had stayed home from school I had to keep a eye on her but, this morning she was feeling better enough to go to school. Just glad it wasn't worster. I told the girls that I couldn't make the Knit Night they understood but, I will surely try to go next week for sure.
Also for my regulary readers my blog as changed just a little bit. I was happy to come across a website that helps you with the codes to add to your blog. I always wanted a scroll on my blog now I have one at the top and to the right on my side bar all the blogs I visit is listed but, rolling at that cool lol. Then I found a colde to get a navigator bar that is up top so now all the places I visit is at the top. Cool huh?
Ok got to go now. Love comments as always and will surely update my blog with my last projects as always. Keep your fingers cross for me to get my big projects done before 2008.
Oh also have a little good news my mom's friend daughter own a shop here selling wigs and hats, scraves, and jewerly. She love my crochet items and asked me if I wanted to sell a couple of my items in her store. Sure I already sell most of my things to people I know. So was thinking about whipping up some hats, scraves and some purses and see where it goes from there. Still thinking about it in away. But, keeping it in my thoughts and see where I can take it from here. :) Just thought I will mention it.
Later