Ok this weekend been crochet crazy for me lol. I got one of the purses done that I said, I was going to do that turquoise purse but, mines isn't turquoise at all mines burgurndy and I just say it's a Half Circle purse. The pattern I was following was from
Almondeyes121 from Crafters
. The pattern was ok I was able to follow it but, I changed up a lot of rows on the pattern making a little altering of my own with the pattern. I did a lot of chain 3 before starting a new round her pattern didn't ask for it and it didn't look right without that chain 3 or that chain 1. So I made a little changes also a couple of rows I changed up as I went also. Taking note so that I was sure to do the same on the second part of the purse.
So here is how it went with my Half Circle purse.:)
Both pieces done. The purse forms the front, back, both sides and bottom.
Ok now all done I put both pieces together by crocheting them together. But, it still looked nake.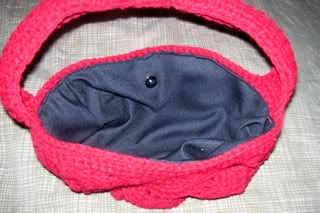 So I put in some black fabric for the lining and a magnet snap. I also did a crochet strap and connect them to both sides of the purse.
Here goes. Aint it cute.
I now want to make a bigger purse like this I just have to change up the pattern by chaining more and crocheting into the circle more times to make the purse bigger. So have to do some little more altering.
(Ok I dream of crochet)
After I had finished the Half Circle purse I laid in the bed trying to go to sleep but, had a thought of another purse that just wouldn't get out of my head. I thought about how I would make the purse and how to piece it together. I then finally was able to go to sleep when I wont up on Saturday I just had to give it a try and try out that purse that was stuck in my head most of the night. So me being me I came up with a purse I will call
"Fancy Skirt Purse"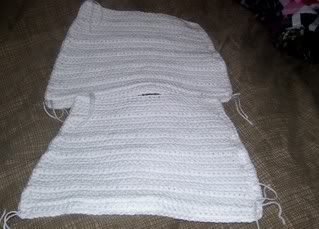 This is the start of my purse. I took notes and wrote what I did every step of the way so I would be able to repeat it for the second half of the purse. The purse was done with two pieces of yarn to give it that stiffness I was looking for. The purse forms the back, front and bottom part.
So now here is the finished purse.
"Fancy Skirt Purse"
Front, Awww aint it so cute lol.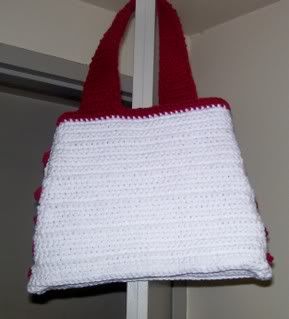 Back,
Close up
Also this purse only have one strap but, I can alter to be 2 straps. One end of the strap is on the front part of the purse the other is on the back end of the purse I thought it would be more unique that way it just came to me.
Done in Red Heart in white and burgundy
Done with a K and H hook
Only stitches was used was all single stitches
I would like to do this purse again with different colors and differnt stitches altering my own design I guess that's how we all learn. But, I liked how this pursed turned out yet to put lining in the inside have to by me some burgundy fabric.
So there you have it my weekend so far. Today Sunday now working on a newsboy cap and also changing up my v-neck shirt making it longer and making the sleeves a bit longer.
Ok that's it for now, thanks for stopping by and checking out my crochet work. :)
Everyone take care and have a great Sunday.:)