Well Thanksgiving isn't to far away. I have been getting a little crocheting done here and there. Mainly did a lot of food shopping for Thanksgiving supposed to go over my moms house today to help with Thanksgiving dinner. Have plan to stuff myself full for Thanksgiving lol.
Oh Monday went to my Knit Night meet up which we not calling anymore it's called Perk and Stitch due to not just knitters coming to our meet up so that's good that I can sit back and crochet away with some nice cool ladies for 3 hours.
While there got some progress on a sling bag I am doing or you can say purse it don't matter but, got a little progress on it just have to finish the other half of the purse then I will be done but, taking a Thanksgiving brake from crocheting so will be a finish picture on my bag after Thanksgiving. Other words here is a WIP picture:
Ok also finished another newsboy cap in white it came out ok. This time I used a K hook and changed up the stitches from the last cap I did.
Oh also for those that seen my v-neck shirt I will be changing it up a bit adding longer sleeves and making it longer at the end of the shirt so hopefully after Thanksgiving I can get back to that shirt. I like it but, just want to alter it a bit adding it a little longer. I also want to make me another one like that but, in 2different colors.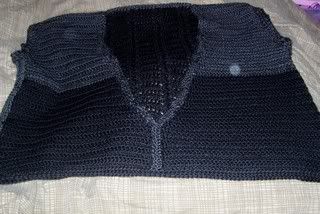 Also for those that pick a number for a pattern that I want to do for my shrap I will go with the one that everyone voted the most on number 56 called, "Snapdragon Stitch" haven't got to doing the shrap but, soon I will try to get to it soon. You all know me always doing at least 2 or 3 projects at once whenever I can. I have a long list of WIP for crochet everytime I see something I like I just have to try and make it so my list keeps getting longer and longer but, I try to finish those projects that I know is quicker before going to those big projects. Oh that reminds me I need to get back to my sudoku blanket I want to get back to that next month also my niece a blanket with her name on the blanket. Those are some big projects so want to get my hands back into my big projects and stop putting it off. Also my sisters and they friends are now asking me to do stuff for them I am like well if you all coming out of your pockets for yarn and my time then I am all good lol. :) I so tried to teach my sisters how to crochet so that they wont be running up my butt trying to get me to crochet for them but, they gave up way to quick.:)
4 day weekend this week hoping to get a little brake from my kidos this weekend. Need a little ME TIME. My oldest one keep begging me to do her a blanket which I told her I will just have to wait. She has about 6 blankets already she just sees things she like and want me to make it. Ummmm dang don't that sound like me lol. Well she gets it from her mama lol.
Well hope everyone have a great Thanksgiving I know I will sit back and chill with my family and eat eat eat. :)
Take care all my blogger friends:)