I think I went into a hat funk for a couple of days lol. Well had to get my daughter's hats done to match there scraves that matches there coats.
Mainly again wing these hats and keep trying the hats on my girls as I went to make sure it wasn't to small or to large.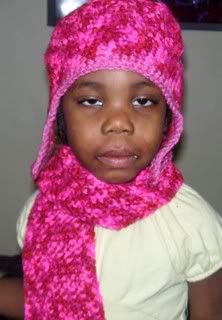 Here go Nellie. I loved doing this hat love the yarn color. I did a ear flap hat with a matching scarf as you can see. I was thinking about doing a little pom pom at the top but, ran out of yarn but, shoot it still looks nice.:) Nellie not acting like it she was upset that she couldn't have any candy lol.
Front
Back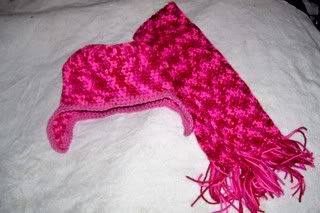 Here go the set.
Yarn: Red Heart, Candy Print
Hook: I
Stitches: for scarf was SC, for hat was HDC, SC, DC
Now here go Nesa my oldest daughter. I finally did her hat that matches her scarf with her nick name on it. I was so happy to find yarns that matched her coat color.
Front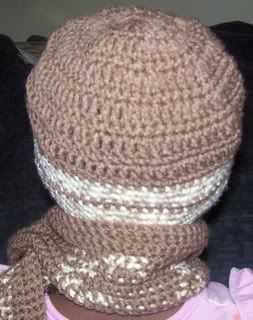 Back
Here go the set
Yarn: Red Heart, Coffee, Print(Something)
Hook: I
Stitches: for scarf SC, for hat SC, DC, SL
Ok now here go my very best project in the hat category. Ok I was practing over and over on how to do a newsboy cap starting with gauge and just going with the flow of things. I came across a couple of patterns on newsboy caps but, didn't like the patterns was to overwhelming if you ask me lol.
So if you look at this picture below to your right was my first try at it with a smaller hook and with less stitches in my circle. To the left a larger hook and more stitches in my cirle.
To the Right: Hook: I
To the Left: Hook: M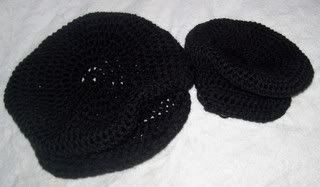 This is what happens when you wing it but, shoot to me it's just learning from my mistakes and how to make it better the second time around as you can see below.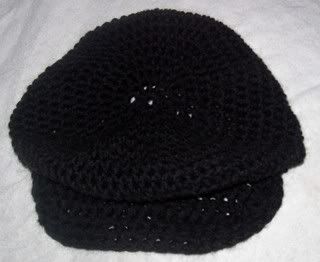 Love this hat.
Fit just right. After finishing this hat I wore it the same day. Now I have about 6 people wanting me to do them a couple of hats. HMMMMMM well that just means more money for making the hats knowning me that also means I get MORE YARN lol.
Yarn: Red Heart, Black
Stitches: SC, HDC, SL
Ok this isn't in the hat category but, here is a quick update on my daughter Nesa's shroat I finished it Thursday and she wore it to school on Friday.
Front, don't mind her she was upset that she had to go to school. Say mom I didn't sleep long. LOL I said, if you stop playing and go to sleep when I tell you to then you want be sleepy when you wake up. Kids
Back
Close up finish shroat.
Yarn: Red Heart, Black
Hook: K
Stitches: DC, C
Ok there you have my latest projects.
Also would like to thanks those that play along in the PIF the three people I will surely send gifts to is
Christina
,
Melissa
and
Monica-FC
. For those three people if I yet to have your address please email me at mom2girls11681@aol.com. I will start on those gifts after the holidays for sure.:)
Hope everyone is having a great Sunday time for me to get back to watching some movies and crocheting my next couple of projects.:)
Everyone take care. :)