Really well at least my J hook was on fire this weekend lol, Well had a couple of projects I wanted to get done this week. Still working on my daughter Nellie a sweater. Dang time changed and you can tell it is so getting closer to snow falling. So I want to try to get my girls some hats done and my daughter Nellie her own scarf also. Also have a couple of projects I would love to try to finish before the new year starts. So I set up a CAL on Crochetville to see if some others would like to take the CAL challenge with me.
CAL Before 2008
Also I had a big laugh with my sister yesterday she came by and she seen this small piece of a rectangle that I had crocheted, my sister said, and now what you crocheting you just can't seem to put your hook and yarn down for nothing lol. I said, that is going to be Nellie a jacket like shroat she said, out of this. I said, girl I just getting started I said, first I have to make that rectangle bigger in order to finish it. She looked at me crazy saying you going to make a jacket out of a damn retangle. I said, YEAH lol.
This is what she was talking about lol.
Ok have to confess now. I finally read a patten and did the pattern step by step I am so used to just reading a pattern then I get overhelm and just wing it myself but, this time I have to say, I went for it. I always record all the Uncommon Threads shows that comes on DIY mainly the ones that is all about crocheting only and I went back watching them and seen the show when
Crochet Nation
was on there making Shrugs, Shrackets, Shroats, and Shraps. So I thought well let me give that a try went to DIY and found the pattern. Read it over and over and over so I could get it on my head then I went with with it.
So about 15-20 after my sister left that rectangle became bigger then it became a shrug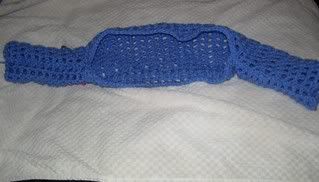 Then about 10-15 more minutes later it became a shracket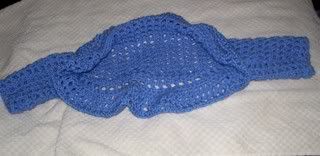 Then about 15 more minutes later I had a shroat I was oh so done and had a shroat for my daughter Nellie.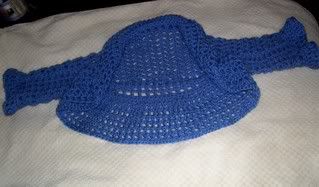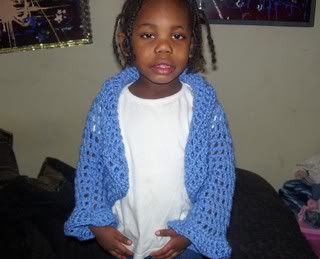 Front
Back
Yarn - Bernat Softee Chunky, Denim Bruyere
Hook - J
Stitches - SL, SC, DC, C
Now about 30 minutes after I finished and took my daughter pictures with her shroat my sister comes back over to get on my computer and she says dang I know you not done that fast. LOL
My other sister seen Nellie shroat today and asked if I can do one for her daughter my niece I said, sure I can whip that up in like 40 minutes or so.
So here is the finished project on my nieces shroat. I crochet this shroat while sitting at my moms watching Simpsons.
Aww aint my niece so cute.
Front
Back
Yarn - Red Heart White
Hook - J
Stitches - SL, SC, DC, C
Ok there you have it that was my weekend projects. Other then watching tv, laying back chilling I got some crocheting done. I need to get my sewing done have plans to do me a purse, and finish 2 shirts for my daughter Nesa so need to get my sewing mojo back. It comes and it goes every now and then.
I have to go to my Knit Night meet up tonight so hoping that all goes well. I have to buy me some more batteries for my camera would love to take some pictures to put on my blog.
Hope everyone set there clocks back other words you will find yourself waking up late lol.
Everyone have a great day, night, evening whatever, Take care.