I went ahead and did a PAY IT FORWARD on Gold's Blog. How this works is I will send a handmade gift to the first 3 people who leave a comment on my blog requesting to join this PAY IT FORWARD/PIF exchange. I don't have no clue of what I will make at this time you won't know what it is until you receive your gift, but also you will receive it within 365 days, that is the promise I will make to those 3 people.
The only thing you have to do in return is PAY IT FORWARD by making the same promise on your blog. Come on and join. This will be fun if you love getting nice things in the mail.

There you have it PAY IT FORWARD.:)
Now on to my crocheting part of this topic.
I got my daughter Nellie's tie down sweater with a hat to match. Love how the hat turned out. Have to confess again this is my very very first time doing a hat it took me awhile to get it like I want had about 3 or 4 tries but, I got it down. Watching way to much crochet videos did help a bit. I had plenty of this yarn left after finishing Nellie sweater so I thought let me give it a try and try a hat.
Step by step progress.
2 front and back pieces
No pictures for the sleeves I wasn't home while doing the sleeves. But, I also didn't want her to have long sleeves or to short sleeves so I did it in between giving a little over the elbow type sleeves. I also hated when I had to do sleeves it took longer time to me to do the sleeves so I did both of sleeves at the same time working around the arm hole to both sleeves from both ends of the yarn.
But, here go the finished progress.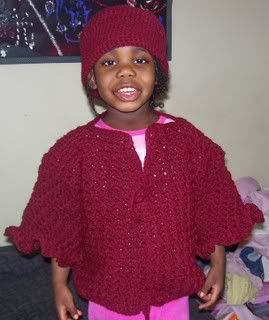 Front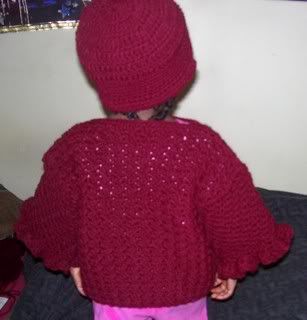 Back
Close up on front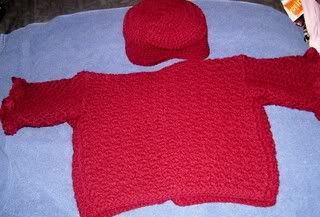 Close up on back
Now here goes the hat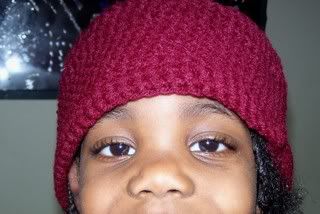 Close up front hat, awww look at her eyes.
Close up back
Have to say I am proud of myself on how the hat turned out.
Also the stitches in the hat is just Dc, Sc and SL didn't do the same pattern stitches that is in the sweater. Since this was my first time doing a hat I wanted to do some easier stitch patterns in the hat but, the stitches I used in the tie down sweater I got from this book I brought called
Easy To Crochet 63 Pattern Stitches
The pattern stitch I used is called, Ripple Stitch (Multiple of 3+2 chs)
My very first time using this stitch. I thought well time for me to get out of the same ole stitches and try some new stitch pattens so I went ahead and done that have plans to try some more of the stitches on some future projects.:)
Yarn: Red Heart, Claret
Hook: I
Stitches: Double, Sc, Ch = worked up to make Ripple Stitch
Ok now after finishing this project you know me had to start on another project so now working on my oldest daughter Nesa a shroat also.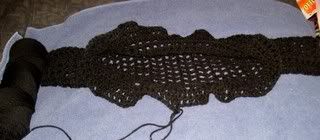 So far it's a Shracket. Nesa shroat going to be much different from Nellie's shroat. Nesa's bell like sleeves are going to start at her elbows down instead from wrist down. Also her's going to be longer and also going to have a one tie string to close it in the front.
Since I gave this pattern a try the first 2 times it came some natural when I started this one. Make me want to make me one lol.
After this shroat I want to make Nesa a brown hat to go with her scarf I was going to do it on the knitty loom but, it's going to take longer that way plus since I practices making a hat I should be able to whip this up in no time. Then I want to also make Nellie a hat scarf set to go with her coat. So those are my newest projects. That hopeful I should be done with by oh say Saturday.:) I would say Friday but, going to be very busy Thursday and Friday sewing from some girls that live by me. So wont get in much crocheting like I want those 2 days.
Oh also a update on my Knit Night group meet up. Oh yeah sorry no pictures I was running so late trying to get there that I forgot my dang camera sorry. But, I got some help lots of help. I can now hold the yarn with my left hand while knitting at first I didn't like much of holding the yarn with my right if felt so funny that way since I crochet I hold the yarn with my left it was more natural that way. Still haven't knitted up anything at least not just yet, just mainly doing small pieces so I can get used to holding the needles and yarn. I am so used to one hook and yarn. Oh also I can now purl yay me lol. :)
Ok that's it there got to go. Thanks to all that be leaving some great comments and feedback. Thanks.
Everyone have a great day, night, whatever. Take care.:)