Well been crocheting like a storm. It does helps to relieve some stress have so much on my mind when it comes to my oldest daughter so me crocheting is just a big stress relief. I can't believe it is November already WOW time flies so fast soon my bday will be coming right back around. My girls already talking about Christmas toys already. Soon snow will be falling I so hate the snow. Don't mind the cold I just hate the snow and ice and living in Milwaukee we tend to have way to much of it.
Well finally finished up my little daughter Nellie's boat-neck shirt. She so loves it. She said, mom I want another one like this. She ran to my boxes of yarn picking out the colors she wanted for her next boat-neck shirt. LOL dont know about making another one I told her I need to get to make you some sweaters.
Sorry now pattern my own trial and error
A work in progress this morning one sleeve done.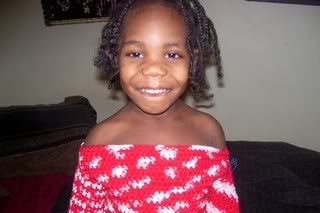 Here she goes, a close up. Her and her peppermint boat-neck shirt with long bell sleeves. I want to close up towards the neck a little bit more ran out of yarn so will have to add on later.
Aint she cute.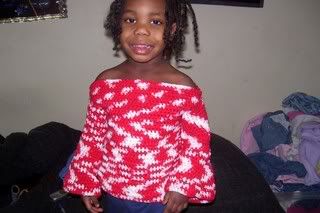 Front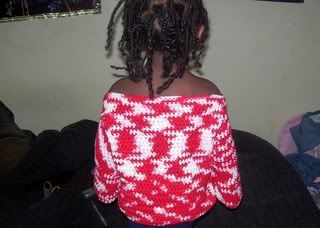 Back
Ok now for me I have been done with my second bolero for a couple of days just put the buttons on yesterday. Was going to use a zipper but, couldn't find a light weight zipper that wouldn't make my bolero sag in the front so decided to use some buttons.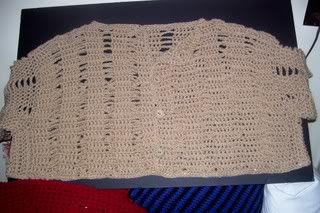 Had to block it.
Sorry no pattern my own trial and error.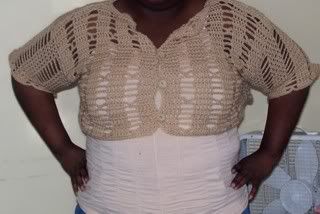 Front
Back
So how do you like it?
Well you can say I have giving knitting a little of a go. I see it is very slow progress. I can cast on and garter stitch but, other then that I haven't yet to try anything else. So so different then crocheting so used to crocheting because it goes faster I can finish 5 rows of crocheting that is chain of 20 in less then 2 minutes but, when I was knitting it took me more then at least 7 minutes to finish up 20 stitches in 1 row and also I work the yarn in my left hand while crocheting but, other words while knitting I have to work it with my right hand and it really don't feel right but, I gave it a shot I am not going to give up on it I wont let this knitting beat me. I didn't like the crocheting beat me. I learn that on my own and still everyday I try to try something different and new with it.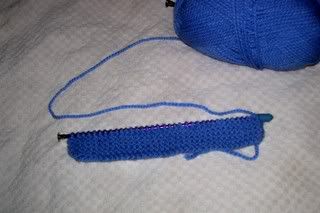 See there I can so knit lol.
After giving this a go I went ahead and took it off the needles. I re-done over and over and over still trying to make sure my stitches not to tight so I can put the needles back thou the yarn. Didn't give up and still going to give it a big shot. Have that Knit Night meet-up Monday night at 6 PM so will ask the ladies everything I can think of when it comes to learning to knit.
But, there you have it. Thanks to all that is keeping my daughter Nesa in there prayers and thoughts thanks :)
Everyone have a great weekend take care now you here:)