Thanksgiving was ok got to eat a bit at my moms house stayed there for a couple of hours then hit the road to Chicago so that my little daughter can see her dad's side of the family it was already there I kept myself busy with crocheting my sling bag which I did finished. I said, I was going to take a crochet brake this Thanksgiving well all said, and done but, couldn't take to long of a brake I get bored easy and find myself crocheting to keep myself from being bored.
Here is my sling bag, Mainly going to use it for my yarn. I thought this would be nice for me to take to my Perk N Stitch meet ups on Monday to carry my yarn and wip projects. It's big enough and needed something other then my purses that wasn't as big enough. I got the pattern to this bag from Ravelry. Sorry don't remember the link. But, I didn't follow the pattern completely I added my own as I went mainly doing my thang by altering the pattern to suit what I wanted. :)
Also got to alter my v-neck shirt made my sleeves a little longer and made the bottom of the shirt a little bit longer think I will wear that when I go to my Perk N Stitch meet up on Monday with the gals. Just to show it off lol. I have plan to do me another v-neck shirt close to this one but, in different colors haven't yet decided how different I want to make it but, working on that.
Before V-neck shirt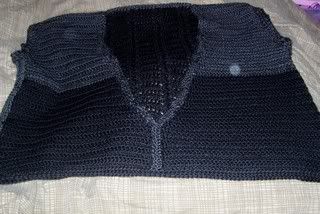 After V-neck shirt
Now that is it with that shirt I ain't messing with it no more unless I will be putting it on lol.:) Oh so done with it.
Sorry about that my first picture I did a very big close up but, you all can noticed the differents with the shirt can't you?:)
Also Black Friday I have to say I shopped til I drop brought some early Christmas gifts for my girls me a couple of things some books, fabric, yarn houseware things. Stuff like that. Don't know why I brought me some more books. I haven't yet to finish reading my library full of books I have now but, I noticed when it comes winter I find myself reading a lot more then all of the other seasons so want to catch up on my reading a little bit. I also found a lot of crochet books at Half Price Bookstore that I just had to get because if I seen them at another bookstore lets say Barners and Nobles they will cost the full price but, I got them cheaper at Half Price instead so had to go for them.
My mom asked me what I want for Christmas. I looked at her and said, ok you really want me to answer that lol. She looked at me and say, nah I already know you want more yarn lol. :) see my mom even knows me lol.
But, I would also love to find me a sewing book on hats. I have been looking for a sewing book on hats but, can't find any I like the ones I found was mainly on how to make kids hats I want to do adult hats also. Also on my wish list is light up crochet hooks in H and I, also like my mom said, yarn which I already have to much now but, can't have way to much now can we.
Oh by the way for those that picked the stitch 56 Snapdragon for me to try out for my wrap well. I wanted to so try it out but, after trying out that stitch it just didn't look right looked to bushy to me making the yarn look clumpy so I gave up on that stitch and went to the Mesh stitch instead. But, thanks for the advice for those that voted on the stitch.
Here is a little of my progress on what I started so far below.:) same yarn as my sling bag navy. I aint into wasting my yarn none what so ever so I want to get at least a shrap out of this yarn may not have enough but, it's a start until I hunt down some more navy yarn in my boxes.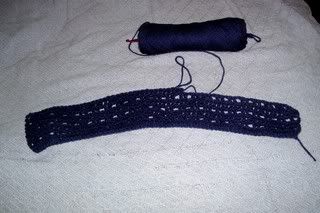 What my weekend looks like? Well so far since we got back this morning my oldest daughter gone with my sister to get her hair braid. My little daughter is here with me mainly playing and getting into stuff. I miss home so I want to lay in my bed and relax. I order a couple of movies. Transformers, and Live Free Die Hard. So want to lay back and watch those movies and relax because the weekend will soon be over. :)
Hope everyone have a great weekend I surely will try. :)
Take care.