Ok finally done with my shirt. I would have been done awhile ago but, due to be teaching this teenage girl how to crochet I fell behind on my own projects. I also decided to do this project and this project only because I do find myself doing 3 or 4 crochet projects at once but, I wanted to get this shirt out of the way before starting on something else.
Here go my shirt I so love it. Was glad to say I AM NOW DONE lol.:) I so want to make me another one like this.
Front/ the stitches in the front are all double crochet on the middle edging of the shirt is climbing shells and on the sleeves is double and climbing shells.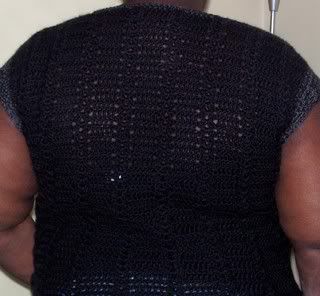 Back/ the stitches on the back are all climbing shells from top to bottom. My first time doing climbing shells love how it turned out at the back and the back bottom of the shirt.:)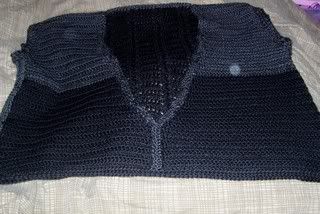 Close up on front
Close up on back
Yarn: Caron Simply Soft in Black and Charcoal Heather
Hook: H
Stitches: Climbing Shell Pattern, Double
Ok I have a couple of things I would like to start crocheting. I was going though my queue on Ravelry and decided ok time to try to get some of these out of the way. I found a lovely purse by
The Crochet Dude
that I would love to try and crochet up. The purse is called
Chic Halfshell
. :) That's one of my projects I would like to try to start sometime this weekend hopefully.
Also another purse I would like to try is by,
Almondeyes121 from Crafters
the purse is called Turquoise but, mines isn't going to be turquoise haven't yet figure out what color but, do have plans to try to do it. :)
Also I have a shrap and a matching newsboy cap I would like to do in navy color and white. I know I want to get started on the navy shrap sometime on Saturday. Haven't yet picked a stitch I want to try so was looking to get some help from you all with helping with some stitch patterns for my navy shrap.
Ok here is the first stitch that I thought would be great called, Snapdragon Stitch, I like the stitches like that it is open stitches. I practice the stitches and I can say I got it down pack. Just never tried the stitches on any wearables.
In picture below it's the one listed as number 56. Its the white block at the right edge.
Ok here is the second stitch that I have tried before on other wearables called, Alternate Mesa Stitch.
In picture below it's the one listed as number 57. It's the reddish block at the top left corner.:)
Ok thought I can get all my blogger friends helps on what stitch I should do on my shrap love to hear what stitches you all like the best. :)
Ok thanks for looking hoping everyone have a great weekend. Now I want to get started on those 2 purses I should have a update on those this weekend knowning me I will finish one of the purses in no time. That turquoise purse seems like a piece of cake I read the pattern and I think I can fly though that in no time.:)
Thanks for reading everyone :) take care. :)