Ok I finally finished my cardigan it's plus size. I think it turned out great. I haven't made me anything clothing wear in awhile so for me to do this made me feel a little bit proud of myself. :) no pattern like always. Just another one of my go with the flow thangs. :)
Here go a little wip pics:)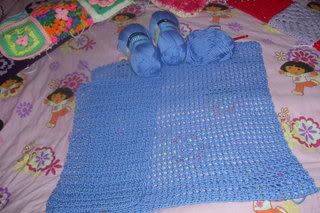 This is one of the WIP pic the back and one of the front pieces.
Now I have both of the front pieces the back and also crochet 4 rows on to both the front pieces and on both sides of the back piece this makes the arm holes that you see here. The black yarn I put as a measurement to where I will start my arm holes.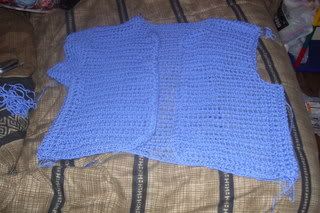 Here go one of the arm holes done here.
Here go both. I also crochet around the neck all the way around the back and front to give it more lenght to the cardigan.
Here I added the tie string to it.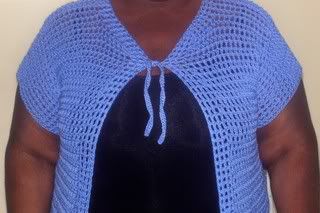 Close up
Here I am my plus size cardigan. I cropped of my head due to a bad hairdo/hair day.
I want to wear this with that black tank top and some black faded denim jeans so picture the black jeans:)
Front
Back
Side
So do you like my cardigan. What do you all think????
Ok here go some house shoes I whipped up for my girls. I was practicing to see how it turns out while doing the first shoe. My girls was ohhhh and awwwwing so I decided to go ahead and finished them up and here they go.
To the left is my oldest daughter Nesa's house shoes to the right is Nellie's house shoes that's my youngest and last child:)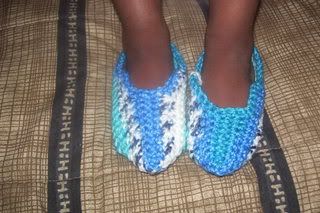 Here go Nellie with her pointed toe house shoes. Reminds me of elfs shoes lol.
Here go Nesa's.
Again no pattern one day I will have to sit and write a pattern as I crochet it's just that I am so used to making up as I go. :) So what do you all think??????