My weekend was ok it went pass fast. The weather here is so confusing one day it is hot then the next minute it is cold that's Milwaukee weather for you. Other words my girls are doing ok they been stuff up from the weather changing so much. My weekend mainly I put my hook down for 2 days due to my wrist hurting from crocheting and typing a lot I need to take a little brake from my hook. I got my
sewing area
all organized so that means I didn't have no excuses for not sewing so here go my sewing weekend.:)
First will start with my girls. I came across some flower like fabric that my girls was ohhh and ahhh at so went ahead and made them a nice outfit to wear around the house due to the weather changing don't think the outfits I made would work so well with our Milwaukee weather. :)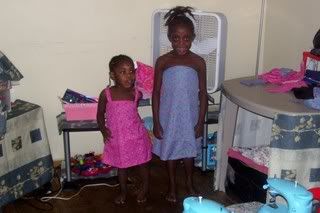 Front:) Nellie is in the pink outfit to the left my 2 yr old she barely ever looks at the camera lol. Nesa is in the purple to the right with her cheesying face she is 5 yrs old.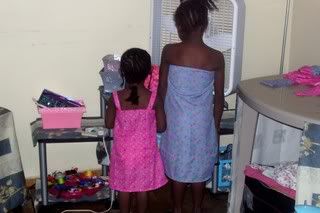 Back
Awwww
I also got some bags done this weekend. :)
Purple bag with tie straps and flat bottom
Inside lining has purple silk and a metal snap to help it stay close
Denim bag with tie straps with hard bottom
Inside lining has blue silk that has pockets as designs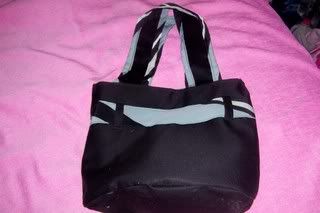 Black bag, made it looks like it has a belt and belt holders as design used the inside lining for the outside of the straps and the belt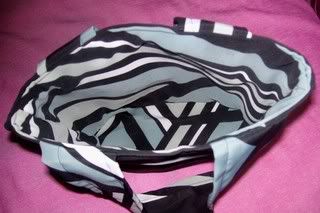 Inside lining is mixture of colors in silk
So that was my weekend same ole same ole. Have to get back to my crocheting sometime this week have a couple of things in mind.
So how was everyone weekend? Any new finished projects? What is your work in progress for this week?