Nope there isn't any ice cream just my daughter's bolero that is made from Bernat Neopolitan Shades. Loved this yarn color. Ok wanted to do a step by step guide on how I did this bolero without a pattern. I get lots of requests for my patterns but, I don't follow patterns. How I do my projects I mainly follow a guideline of how I would have sewn it if I did. So here go a few pics listing step by step. Thought this would help for those that always wanted to try to crochet clothes but, can't find a pattern you surely can do it for yourself. I know I did.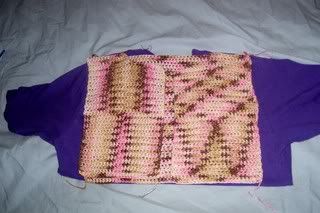 Ok I start with one of my daughter's shirts. Since I was making a bolero I had to fold this shirt in half mainly giving the shirt a inch in a half from the sleeves. I used the shoulder line of her shirt to start my chain. I measured the shoulder to shoulder line on the shirt and that gave me 50 chains with a G hook. So that was my starting chain 50 chain. I used the back of the shirt for my guideline on how long I want her bolero.
Here go a picture showing the back piece and the 2 front pieces. I gave the front pieces a little of a collar when you come to the top of the 2 pieces.
THE SHIRT ISN'T MY GUIDE ANYMORE NOW.
The black yarn on all four pieces measures where the arm hole will be. How I get this measurements I measure my daugther's arm and I got 7 1/2 so round that up to 8 inches. Since that 8 inches make the whole measurement of her arm to get the front and back pieces measure in half I say 8 divide by 2 and get 4 so that gives me 4 inches for the back piece and 4 for the front pieces. Where you see the yarn is 4 inches from the top pieces.
Now depending on how you like the bolero to fit is how you will determind how many crochet rows you will do on each sides. This picture shows that I did 4 crochet rows on the sides where the black yarn is. This gives you a arm hole. I did 4 on both sides of the back and on the front pieces.
Close up picture show you where those 4 rows are. If you measured right all your black yarn should match up with each other when you put the front pieces on top of the back pieces.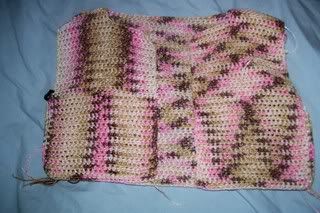 Now you have to flip your pieces on the other side having the outside facing in so you can crochet your pieces close. Crochet the side pieces leaving room for the arm holes and also crochet the top part where the shoulders will be. Crocheting it to me is better then weaving it close because when you keep putting it on and taking it off the yarn tends to pull and loose up so by crocheting it close helps to not pull away.
It would look like this after you crochet them close.
This picture shows that I added a tie string. To add the tie string I chain 31 then on my 32 stitch I added it to one of the front bottom pieces of the bolero then crochet around the bottom until I got to the other side I then chain 31 again then work that chain back all the way around to the other side. That is 2 rows of crochet stitches worked around the bottom of the bolero.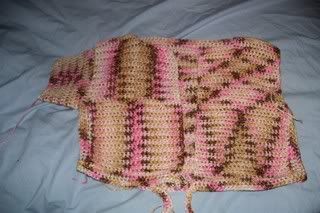 Here go a picture where I start the first sleeve. Some people crochet the sleeves then add it on later. I don't like how that look to me because mines never seem to come out right so. Since I made those 4 rows I mainly made a arm hole that measures in 4 inches just right for my daughter's arm. So I use the arm hole and worked in the round. Hope I am writing this right.
Row 1 of the sleeve - work in the round
Row 2-3 skip one crochet stitch under the arm pit and another at the top where the shoulder is
That to me gives it that more of arm like look and not box like look.
Row 4-5 work in the round
Row 6 skip one crochet stitch under the arm pit and another at the top where the shoulder is
Row 7-12 work in the round
Now if I wanted to go more I just keep working in the round I will put the bolero on my daughter to see where I am with the sleeve when I get down to the elbows I will start decreasing ever other row until I like how it looks on her arms.
Make sure you do both arms the same.
Here go the finished project. I also crochet around the collar and down the front pieces to give it that finish look. Here is the front.
Back
Front. I want her to wear this shirt with a cream color shirt under it.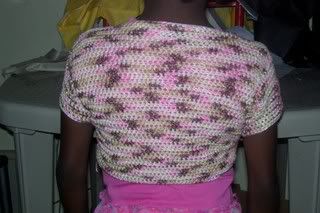 Back.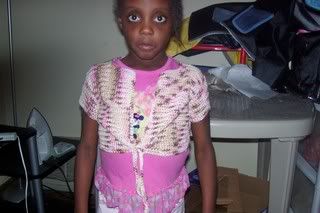 Here go Nesa all shocked and suprised lol :)
Thanks for looking. I thought by me giving step by step for those that always wanted to crochet there own clothes but, never had patterns that you surely can do it just grab your yarn and get crocheting. Because I know I didn't use a pattern and it is hard at first but, you will get the hang of it. Thanks for looking. :) love comments. So what do you all think of my daughters neopolitan ice cream bolero?