Who said, that my girls not artists. Well this weekend my girls became Leonardo Da Vinci and Vincent Van Go
Look at them hard at work lol.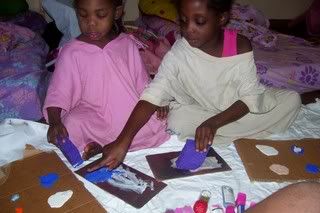 I brought some foam like boards that I as using it for a craft board posting designs and things like that on it but, since I did a lot of changing things around in my home I decided to go ahead and give it to my girls to do there art work.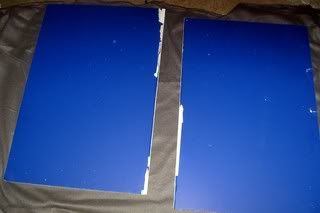 Before me and my girls got our hands on it. :)
Had some spray paint that I haven't used in awhile and decided to give the board a little background color of black.
Here a little red and blue.
After my girls did there work. I added some ribbon around the boarder.
Here go the famous art work.
TA DAAAAAA LOL
Ok I needed a little change when it came to my computer desk it was all un organize and out of order.
Oh I am so junkie lol. Also this desk here has had it's days to the point my desk is only standing because my computer is on it lol. :) From changing around my room so much my desk decided to start falling apart.
My mom had a desk sitting over at her house that she wasn't using so I asked her for it. It has had it's days so I wanted to give it a little bit of Lesa's touch up.
Before, oh also that is the chair I us when at my desk so since I was giving the desk a touch up so why not do the same with the chair.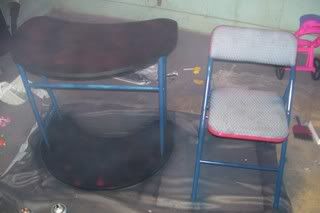 After see don't it looks new again. I love doing recon/recycle. All it is to it is just throw on some paint and it's new again.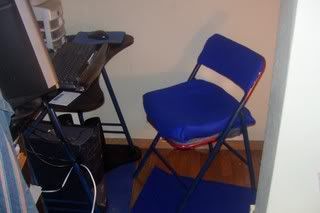 Here go my computer area now in my small size closet that I don't used so wanted to put it to work. I always keep all my clothes in my hallway clothes due to it being bigger and in drawers so since this closet was like what I called the BLACK HOLE where I tend to throw things in here that I don't need so taking up the space helps me to not be collecting things I don't need lol.
The chair had a little bit more of a fix to it. I got me a seat cushion and covered it with some fleece and also put around the back of the chair as you can see. Now my chair is all jazzed up lol.:)
Ok ok I know I haven't had any crocheting up in awhile still working on a couple of pillows for my girls room also my 2 yr old a shirt, my mom a tote bag all at the same time so this week I will have pics of that tote bag for sure. :)
Also my sewing in progress is me a purple and black purse, kitchen curtain, also a wall hanging out of fleece and fabric. :)
So there you have it our weekend and my upcoming projects:) so what do you all think?