I just had to get organize. I haven't been sewing in awhile and I noticed when my sewing area tends to get messy and un-organize I tend to stay away from my sewing area but, that don't stop my kids from mess up on they side of my sewing area. I had to get orgainze here are some before and after pics.
Before picture.
This table holds my sewing machine and nick nacks like thread, scissors and the small table holds my radio I tend to listen to music while in my creavtive mood. I do the low budge type thing when I comes to my sewing area I aint into paying for things I don't need or cost to much when I am only going to use the things in my sewing area.
After picture.
Total differents what fabric and organize can do huh? I use this pretty fabric that I fell in love with at Walmart for 1 dollar a yard so I got 6 yards what a wonderful prize. I put fabric on the table to give it a little design also used to put on my chair, and on the small table where my radio is at and made a sewing machine cover.
Before. My girls was helping me get organize they not to young to help out. This table behind them is the table I use to cut and pin my fabric before taking to my sewing machine. Also have a 2 drawer container next to the table that holds my fabrics.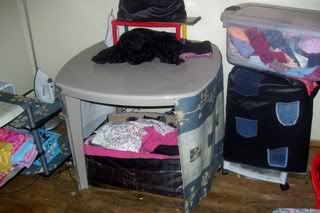 After picture. Like I said fabric can go a long way. :)
Oh I also have a big denim bag I made to put more of like scrap fabric in it's under the table. :)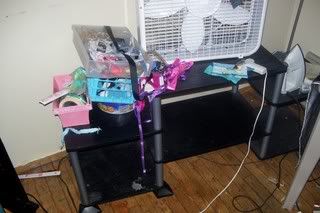 Before picture. This was supposed to be used as a entertainment center I brought from Walmart but, due to my tv being bigger then the top of the entertainment center that I decided to use it to put more of my sewing things on it. As you can see in this picture not to organize as always.:)
After picture. A great different look here. Now I can't say I can't find things lol.
Full overall before picture.
Full overall after picture. :)
So I got a little bit more organized now I have to figure out what I want to sew next. Have to get my things done from off my WIP sewing. So we all can redo and get organize just with a low budge and some pretty fabric we can surely change a look in a big way. :) SO what do you all think?