Ok finally can catch up on my blog. I've been crafty crazy doing some crocheting, sewing and a bit of recons here and there. So you all going to see how busy my week has been. :)
Ok lets start with my crochet work. I am that type of person that gets bored after awhile working on the same project. I then get excited about a new project and sit my other projects to the side and then come back ever so offen. These 2 projects below I can say I have been working on and off on them for at least 2 to 3 months and I have to say I am finally done with them. :) here goes.
Ok these 2 pillows are some reverseable pillows that I wanted to put on my futon. I am that type of person that cant stick to one color so I am always changing up colors so on one side it is blue and black on the other side is red and black. I want to get started on the futon throw blanket that matches these pillows but, aint no telling how long I will be working on that. LOL
Ok here go a nice pink and white blanket with some pretty ribbon like edging that I sewn on. I can say I finally finished this been a while working on it. I don't know what to do with it either go to my niece or to my little daughter Nellie. Haven't yet decided.
Close up.
Ok now it's time for my recons/recyle projects. I have been cleaning a lot mainly getting out fall clothes for my girls and have been coming across things that either I think about throwing away or think what can I do with this. So I did some recon/recyle projects.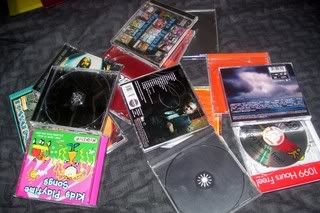 Ok cd cases that I just can't seem to find the cd's to the cases and they have been sitting and sitting forever and ever but, yet to find the cd's. SO OH WHAT SHALL I DO.
Oh hot glue come in handle.
I say shade boxes or small boxes to put nick nacks in. But, I have a idea about putting my girls pictures in black and white on the open end of the box to be a box frame. :)
See who said, you can't be crafty with cd cases.
Ok while going though my basement thinking of all the things I can give to Goodwill I came across alot of old things that was my girls but, haven't yet to give them away so the picture below was like a hanging mobile for over a crib. So what should I do with this.
Me being the crafty person I am lol I came up with this.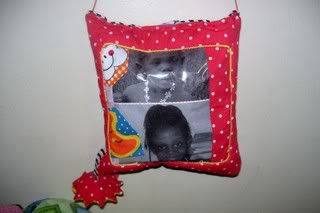 A picture pillow wall hanging for my girls room. Look there go my girls in the picture.
Ok last recyle project.
Ok I forgot what this baby thing is called but, for those moms out there I guess you all know what it is. I know that my girls used it to mainly play with there hanging chains that hung up over there heads or either they fall asleep on it.
I wasn't ready to give this away. I looked at it and my crafty mind took over and I had a great idea for my girls.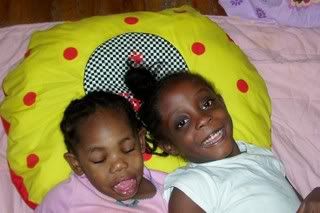 A floor pillow. This was a great project I stuffed the inside with all my old scraps of fabric that I just cant never get rid of so I put it to used. My girls love it and it's a great memory of there child hood because it was for both of them when they was babies. Looking at it now I remember how small they was while laying on it when they was babies now look at them they hold body is bigger then that thing lol. :)
Here goes the green head. After cutting away this hold thing I found out that the head already had a small pillow in it so I just re-sewn it back together and my girls can use it as a pillow also.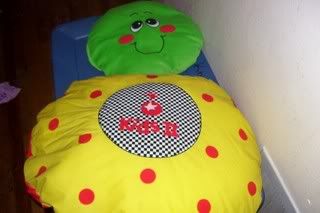 Here it go.:)
My girls love the recons I did for them. I like it that I saved money and also save some of there child-hood things:) can't save them all my oldest one was upset that her baby toys was given away. I told her she's a big girl let some other little girls take them and play with them she will understand when she gets older but, into then most of there kiddie things will still be with them. :)
So what do you all think of my crafty week this week? :)